eScan for Linux Servers is the first reliable virus scanning software for servers running on Linux operating systems. It offers a complete and secure anti-virus security solution. With the increased penetration of Linux as an alternate operating system for desktops, attacks on Linux based machines has increased. eScan for Linux servers answers all the needs. Mailservers are the main gateways of information flow in an organization. Unfortunatley they also function as a gateway for e-mail and other viruses. There is a false feeling of security that Viruses do not infect Linux systems. To a certain extent this is true since in the architecture of Linux systems, the 'Root' or administrator owns the Programs and other users in a Linux network use the non-privilege account. Linux is compatible with Windows & when users transfer these mail documents to Linux, the viruses are launched. eScan works as an on-demand software application that can be called when you need it. It has a sophisticated heuristic scan engine that can recognize and remove over 91, 500 viruses. When viruses are detected you can run preset actions like disinfect, delete the infected file, rename it, prompt for users action, quarantine it, etc. eScan reads inside the data stream of a file to detect hidden viruses. The application can scan virtually all types of files including zipped and archived files. Features of eScan for Linux Server: Real-time Intelligent Monitor to guard your system / Configuration and management through a web interface / Ability to scan files automatically as they are modified and closed in real time / Quarantine the infected filed Skip scanning of files with specified extensions / Scans files in real time with the specified include directories. / Automatic Updates.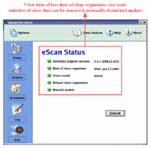 Download
System Requirements:
Linux
Version:
2.0
Last updated:
2011-08-30 03:31:50
Publisher:
MicroWorld Technologies Inc.
Homepage:
http://www.escanav.com
File name:
File size:
10MB
License:
Shareware
Price:
57.19