eMail-Lead Grabber (formerly known as Web Response Grabber) is an email lead processing software that automatically extracts information from incoming email leads in your Outlook or POP3 and creates a new contact in Excel, Outlook, ACT! and other popular databases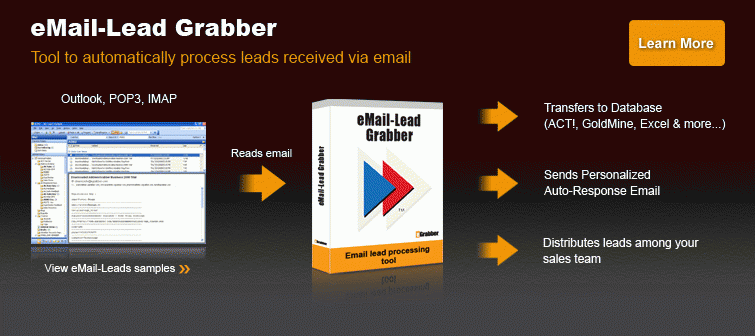 eMail-Lead Grabber enables you to:
-Automatically process your email leads 80% faster to your database.
-Send personalized email auto responder to your customers and prospects.
-Distribute leads among your sales team.
-Automatically schedule follow up activities.
-Check and eliminate duplicate contacts.
-Extract customer's information via web form submissions.
-Identify and remove invalid email addresses from your database (bounce emails).
-Process email leads in HTML and XML formats.
-Automatically transfer email lead information into Excel, Outlook, ACT! GoldMine, and more...
eMail-Lead Grabber is a very useful tool for:
Sales and Marketing Professionals use eMail-Lead Grabber as a lead distribution software to distribute email leads among their sales team and schedule follow-up.
Companies using Web forms in their website, who wish to enter customer responses from web forms into their database and send personalized email auto responder.
Mortgage Brokers, Realtors, Insurance Managers, Auto/Car Dealers and other sales professionals use eMail-Lead Grabber to process email leads and extract customer information which are submitted through web forms & email leads into their database and send personalized email auto response.
Get email-Lead Grabber Now!