Word games for one! Download Word Solitaire today and play your choice of 30 different single-player word games. Try the word-based variations of Tri-Peaks, FreeCell, Pyramid and other popular solitaire card games. Or test yourself with solitaire versions of your favorite board games, similar to Scrabble™ and Boggle™. You might even find yourself addicted to one of Word Solitaire's exclusive word games like Avalanche, Worm Hole or Walls of Jericho. And who can say no to a quick falling-blocks game inspired by Tetris™?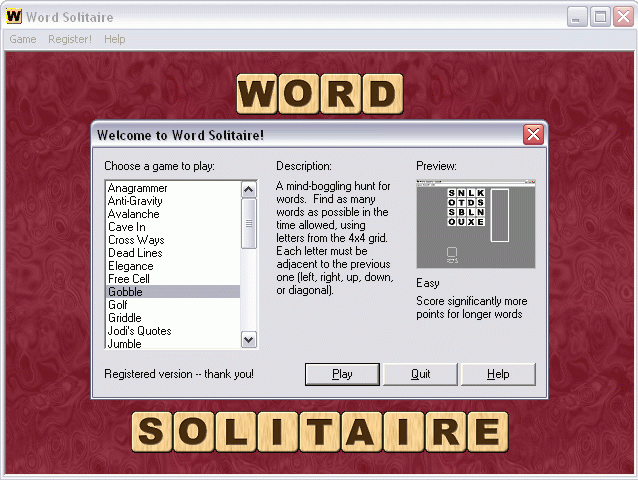 Originally modeled after solitaire card games, Word Solitaire deals each hand from a deck of letter tiles instead of playing cards. So rather than building suits, you try to spell words with the exposed letters. The difficulty varies depending on the game and the shuffle, but the challenge is always an enjoyable blend of luck, logic, vocabulary and nimble thinking.
With rich full color graphics and optional sound effects, Word Solitaire provides a satisfying game experience. The comprehensive and customizable 200, 000-word dictionary lets you stretch your vocabulary to its limits without resorting to profanity. And the high scores and win-loss statistics are tracked separately for each game, so you won't blow your average by trying one of the more difficult games.
Easy to learn and fun to play, Word Solitaire is an attractive choice for word game lovers and solitaire aficionados alike. Whether you're practicing for tournament, exercising your vocabulary or just looking for a few moments of relaxing pleasure, Word Solitaire has it. Try a few hands, and you won't need a thesaurus to tell you that Word Solitaire is synonymous with fun. Download your copy of Word Solitaire today!
Tetris™ is a registered trademark of The Tetris Company. Boggle™ is a registered trademark of Hasbro. Scrabble™ is a registered trademark Hasbro in the United States and Canada, and elsewhere of J.W. Spear and Sons, PLC, a subsidiary of Mattel, Inc.
Download
Alternative Download 1
System Requirements:
Win95, Win98, WinME, WinNT 3.x, WinNT 4.x, WinXP, Windows2000
Version:
3.0
Last updated:
2010-05-06 06:51:15
Publisher:
Haversack Software
Homepage:
http://www.haversack.com
File name:
wordzip.exe
File size:
2.66MB
License:
Shareware
Price:
20.00