Winmail Server is an enterprise class mail server software system offering a robust feature set, including extensive security measures. Winmail Server supports SMTP, POP3, IMAP, Webmail, LDAP, multiple domains, SMTP authentication, spam protection, anti-virus protection, SSL/TLS security, Network Storage, remote access, Web-based administration, and a wide array of standard email options such as filtering, signatures, real-time monitoring, archiving, and public email folders.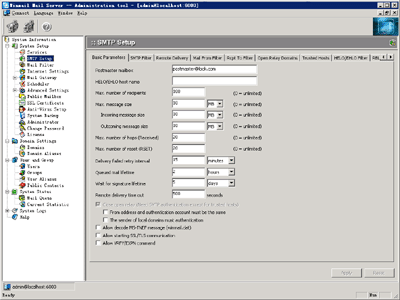 Flexibility
Winmail Server adapts well to many different network environments, with support for the following options:
Internet connection methods such as ADSL, ISDN, FTTB, cable modem and dial-up
Webmail, either as virtual directory or web site, under IIS, Apache and PWS.
Two types of email gateways: POP3 download and ETRN download, allowing access by multiple users to one email account without conflict.
Automatic extraction and conversion of MS-TNEF (winmail.dat) attachments.
Static and dynamic IP connections.
Ease of Use
Winmail Server supports the following user email functionality:
Popular email client software products such as Outlook Express, Outlook, Netscape and Eudora.Configure Email Client Software
Multi-language Webmail
Anti-virus functions, including built-in API as well as support for most enterprise class anti-virus engines
Anti-Virus Engines list
SMS notification to send a mobile phone message upon arrival of new email
Personal email signatures
Email groups for efficient communication and collaboration between individual group members
Email file attachment filtering by file names and type settings
Email archiving
Event calendar and user schedule functions
IMAP (Internet Message Access Protocol) to access mail on server
LDAP (Lightweight Directory Access Protocol) and IMAP public fold
Download
System Requirements:
Win7 x32, Win7 x64, WinServer, WinVista, WinVista x64, WinXP
Version:
6.3
Last updated:
2018-05-10 10:24:22
Publisher:
AMAX Information Technologies Inc.
Homepage:
http://www.magicwinmail.net
File name:
winmail.exe
File size:
136.49MB
License:
Shareware
Price:
129.00