WinRT Viewer for Reporting Services is a touch-oriented Metro style report viewer able to seamlessly integrate SQL Server Reporting Services in Windows 8 applications. It supports both mouse and touch-based interfaces including multi-touch gestures.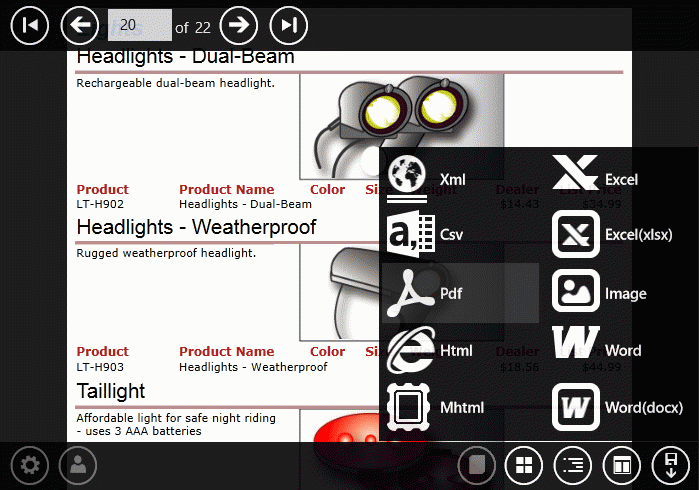 WinRT Viewer for Reporting Services completely addresses Windows 8 principle - Content first and allows users to focus on the content. It is possible to disable standard viewer menu and add buttons to the AppBar. Flip (full screen) & grid (thumbnail) views are available. Convenient bookmark tree offers access to hierarchical list of pages when navigating through the report. Every list item can bring users to the necessary page or open a list of nested bookmarks. Current position is saved.
Standard SSRS functions users got used to are also available in Windows 8 applications: it's possible to get more details for the reports with drilldown and drill through features. Besides, a user is able to navigate between the reports via hyperlinks and open specified URL in the browser. Full-text search and search results highlighting are supported as well.
Need to use reports in other applications? Just export them to one of popular formats: PDF, Excel, Word, CSV, TIFF, XML, etc. or use Windows 8 Share-contract.
The component is easy-to-setup. Only 3 XAML code lines and 4 lines of code in Code Behind - and the component is added. Styles and skins allow developers to change design of any control elements to fit into the application style.
Use WinRT Viewer for Reporting Services to migrate your business application to Windows 8! Download free trial…