WinFormWizard for .NET® 1.1 is a flexible and feature rich wizard framework. Its primary design goal is to provide re-use through inheritance. This design philosophy allows wizard pages created for one wizard dialog to be re-used in another.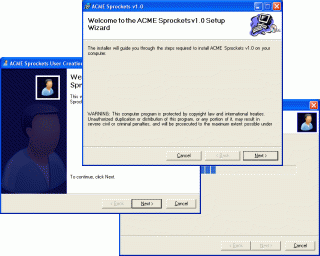 WinFormWizard comes bundled with 19 standard wizard pages. Each page conforms to the Wizard 97 specification; is adorned with guides to help position controls at design time and can be inherited to provide custom functionality and re-usability.
Wizard pages are added by simply dragging and dropping them from the Visual Studio® .NET® 2003 Toolbox. Once added, wizard pages can then be customized to suit the needs of the application.
WinFormWizard provides multiple techniques to navigate through wizard pages at design time, with innovative Click Event Glyphs providing a visual means of generating navigation button event handlers.
At runtime, WinFormWizard will navigate to the next logical page when the user presses one of the navigation buttons. This default behavior can be overridden to provide for custom flow control.
WinFormWizard Help is fully integrated into Visual Studio .NET 2003 with all topics accessible from Dynamic Help, F1, Search, Help Index, and Help Contents.
WinFormWizard for .NET 1.1 is a 100% Managed assembly and makes extensive use of the framework's design time features, with the source code available in both C# and VB.NET.
WinFormWizard for .NET 1.1 is royalty-free to distribute, with all updates to the current version free.
Download
System Requirements:
Win98, WinME, WinXP, WinNT 4.x, Windows2000, Windows2003
Version:
1.0
Last updated:
2010-05-05 20:18:45
Publisher:
Fengari Software
Homepage:
http://www.fengarisoftware.com
File name:
wfw1011.zip
File size:
3.72MB
License:
Demo
Price:
32