VeryPDF PDFPrint Command Line can be used to print existing PDF documents to any windows printer devices. PDFPrint Command Line supports command line operation, it can be easily embedded into your applications and print PDF files quickly. VeryPDF PDFPrint Command Line does NOT need Adobe Acrobat or free Acrobat Reader software.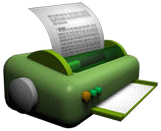 VeryPDF PDFPrint Command Line Features
1. PDF Print is a standalone software, Adobe Acrobat and Reader NOT required!
2. PDF Print support print unattended and in batch mode
3. A set of printing options (select printer, page range, copies, selectable paper size, orientation, duplex printing, collate, scale on printer, etc.) are available, support all options in DEVMODE structure
4. Print PDF documents to a specific printer, or to the default printer
5. Set the page mode (x-scale, y-scale, scale to fit)
6. Set the vertical and horizontal page offset (x-offset, y-offset)
7. Support 100+ standard paper sizes, custom paper sizes or retrieve paper size from PDF file
8. Popup a dialog to select Windows Printer Driver by manual
9. Set paper orientation (upright, upside down, left side down, right side down)
10. Set printer orientation (portrait, landscape)
11. Select the number of copies
12. Print PDF documents in duplex mode (simplex, horizontal, vertical)
13. Select the color mode (color, black and white)
14. PDF Print support convert embedded fonts to Type1 or TrueType fonts
15. Select the print quality (high, medium, low, draft, 300DPI, 600DPI, 1200DPI or others)
16. Print a single page, range of pages, or whole document
17. Print owner password protected PDF files directly
18. Chinese, Japanese and Korean (CJK) characters are fully supported
19. PDF Print supports various languages, include Chinese Simplified, Chinese Traditional, French, Danish, Dutch, English, German, Italian, Japanese, Korean, Norwegian, Portuguese, Russian, Spanish, Swedish, etc.
20. PDF Print allows you to add watermarks to the printed documents.
Download
Alternative Download 1
System Requirements:
Win95, Win98, WinME, WinNT 3.x, WinNT 4.x, WinXP, Windows2000
Version:
2.22
Last updated:
2010-05-05 20:01:22
Publisher:
verypdf.com Inc
Homepage:
http://www.verypdf.com
File name:
pdfprint_cmd.zip
File size:
4.03MB
License:
Shareware
Price:
199