Unistal Linux Data Recovery software is an advanced Linux Data Recovery Software to recover deleted linux files, restore linux data, salvage lost linux folders from corrupt, damaged & crashed linux partitions. Unistal Linux Data Recovery Software Graphical User Interface (GUI) makes linux file recovery process easy for every linux users.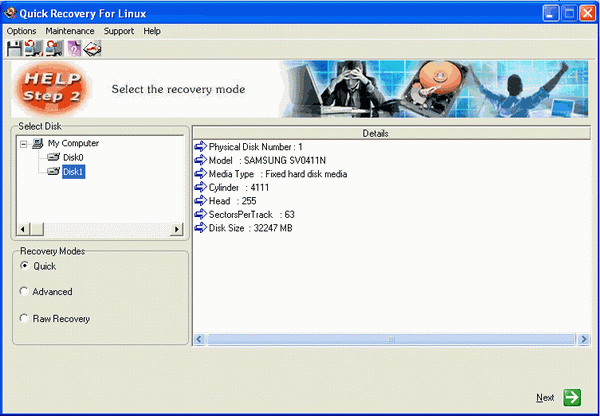 Linux Data Recovery Tool is helpful for getting back linux data in such cases where linux files lost or damaged:
1) In case of accidental file deletion: Software easily recovers linux partition data, files & folders.
2) Get back linux data from reformatted or formatted linux partitions.
3) Recover linux data even after super block or inode table corruption.
4) Software recover linux deleted files even if the bad sectors found in the hard drive.
5) Undelete linux data from inaccessible linux partitions which damaged due to partition table corruption.
6) Recover data from linux volumes even after Master Boot Record (MBR) corrupted due to virus attack.
7) Recover files even after the Root Directory & BGD (Block Group Descriptor) corruption occurs.
Key Feature of Unistal Linux Data Recovery Software:
1) Linux Recovery Software supports both Ext2 & Ext3 File System of Linux based Operating Systems.
2) EXT2 Data Recovery tool supports to recover long name files & folders.
3) Save & Load Log option to resume linux file recovery process later & for save time.
4) EXT3 Data Recovery Software successfully run on Windows 95/98/ME/NT/2000/XP/2003 Server & Windows Vista OS.
5) Linux Data Backup Software supports IDE, EIDE, SCSI, ATA & SATA hard drives.
Unistal Linux data Recovery Software is Windows based linux data recovery tool which means you have to install the software on windows machine & attached damaged linux hard drive as secondary and perform linux data recovery process. Download Free Demo version of Linux Data Recovery Software from our web site.
Download
Alternative Download 1
System Requirements:
WinXP, Windows2000, Windows2003, Vista
Version:
11.06.07
Last updated:
2010-11-23 09:07:00
Publisher:
Unistal Data Recovery
Homepage:
http://www.unistal.com
File name:
QuickRecoveryDemoLINUX.exe
File size:
2.71MB
License:
Shareware
Price:
49