TripTracker is the convenient way to carry along trip essentials (such as flight, hotel and rental car information) and track all the trip-related activities (frequent flyer miles, expenses & more) at the desktop as well as on the go. Plus it includes useful tools (a currency converter, world time clock, etc.) that'll certainly come in handy.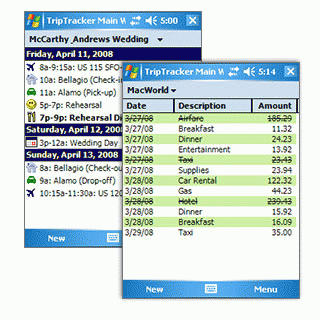 And when you team TripTracker for Windows Mobile with its desktop counterpart, TripTracker for Windows, you've got a winning combination to comprehensively handle your travel needs while at home or away. Now all you need is your toothbrush and you're good to go!
A boarding pass, ID and a Windows Mobile device running TripTracker can certainly lighten your load the next time you take off! The idea sounds intriguing? Scroll down for an overview of all the great advantages TripTracker can bring to your life when on-the-go.
» Convenience and Simplicity You'll Value
Easily organize every important detail and lighten your load by leaving printed materials off your packing checklist:
Printed itineraries
Incoming, connecting, and returning flight details
Hotel confirmation details
Rental car details
TripTracker even supports custom travel events, such as limousine, rail or ferry rides, dining, meetings, entertainment and much more.
TripTracker is the digital carry-on for all your essential documents and also serves as a valued travel secretary assisting you during the planning and organization stages.
» Taking Care of the Frequent Flyer
If you're a frequent flyer, then you know how convenient it is to be able to keep tabs on activities in your various programs, while on the go. Whether for business or pleasure, TripTracker provides peace of mind and a handy way to store details of all your frequent flyer programs, including:
Store all your frequent flyer programs, including:
Account Numbers
PIN Numbers
Balances
Elite Status
Recent Activity
Download
Alternative Download 1
System Requirements:
Windows Mobile 2005, Pocket PC
Version:
4.0
Last updated:
2010-11-23 11:06:57
Publisher:
iambic, Inc.
Homepage:
http://www.iambic.com
File name:
triptracker_ppc_en.exe
File size:
0.68MB
License:
Shareware
Price:
19.95