Remotely Enable SNMP on Multiple Windows Machines!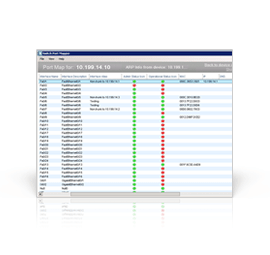 What's an IT superhero like you supposed to do when faced with the unfathomable task of installing and enabling SNMP on Windows servers and workstations located 20, 000 leagues across the sea? Well before you sink into the murky depths of despair, check out our FREE SNMP Enabler!
This cool tool gives you the ability to power up SNMP on multiple Windows servers and workstations, all without leaving the comfort of your cube-shaped superhero lair. That's right. Now you can simultaneously install and enable SNMP on two or two hundred remote servers without breaking into a superhero sweat.
Just think of all the time you can save!
Free SNMP Enabler for Windows Highlights:
* Remotely install, enable, and configure SNMP on any Windows server or workstation on your network
* Simultaneously enable SNMP on multiple machines
* Save time when deploying applications requiring SNMP
So You've Enabled SNMP On All Your Windows Servers and Workstations. Now What?
* Get at-a-glance insight into the health of your physical and virtual applications and server infrastructure- all through a single pane of glass
* Monitor virtually any application and the underlying servers it runs on using out-of-the-box monitors or templates from the Community Content Exchange on thwack
* Keep an eye on the complex, multi-tier application architectures that are unique to your business and IT environment by aggregating views of server and application groups by service (such as email), location, or department
* Perform root-cause analysis across your physical and virtual apps and servers
* Much more!
Download
System Requirements:
WinXP, WinVista, Windows2003, Windows Vista Ultimate, Windows Vista Starter, Windows Vista Home Basic, Windows Vista Home Premium, Windows Vista Business, Windows Vista Enterprise
Version:
1.0
Last updated:
2011-05-09 09:48:24
Publisher:
SolarWinds
Homepage:
http://www.solarwinds.com
File name:
SolarWinds-SNMPEnabler.zip
File size:
1.25MB
License:
Freeware
Price:
0.00