Say hello to the newest FREE tool from SolarWinds: Exchange Monitor. You asked for more free network monitoring tools and we delivered!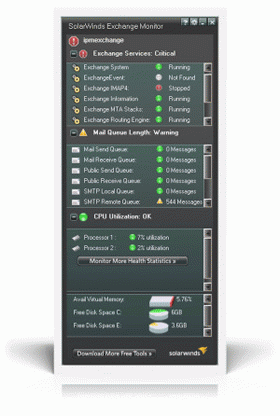 We all know that the email and calendaring services that Microsoft Exchange Server provides are critical when it comes to your business. And we know how your phone lights up like a Christmas tree when Exchange fails you. That's why we came up with an easy way for you to keep a vigilant eye on Exchange health - and it's even FREE!
SolarWinds free Exchange Monitor delivers a clever desktop dashboard that continuously monitors Microsoft Exchange to deliver real-time insight into Exchange services, mail queue sizes, and host server health. With Exchange Monitor at your fingertips, you'll be able to track Exchange health at-a-glance and ensure this mission-critical app never fails you... plus, the Exchange Monitor offers up some fancy desktop eye candy with its 21st century transparency mode, impresses your boss, and ensures the happiness of your Exchange server, so you're assured to be the envy of your fellow network administrators.
SolarWinds free Exchange Monitor makes it easy to:
- Quickly identify and troubleshoot Exchange server problems, preventing email delays and calendaring issues
- Spot growing mail queues that can indicate bigger issues, like transport failures, Internet connection failures, and virus activity
- Leverage out-of-the-box settings based on best practices to start monitoring Exchange immediately
- Prevent performance issues before they impact users with built-in red, yellow, and green health indicators
- Monitor critical server health indicators, including disk space, CPU utilization, and memory utilization, to ensure optimal hardware functionality
Download
System Requirements:
WinXP, Windows2003, Windows Vista Ultimate, Windows Vista Starter, Windows Vista Home Basic, Windows Vista Home Premium, Windows Vista Business, Windows Vista Enterprise
Version:
1.0.1
Last updated:
2010-10-11 16:20:22
Publisher:
SolarWinds
Homepage:
http://www.solarwinds.com
File name:
SolarWinds-Exchange-Monitor-A.zip
File size:
8.41MB
License:
Freeware
Price:
0.00