SesamTV™ Media Center is a friendly multimedia-player software designed to help you create your own digital home.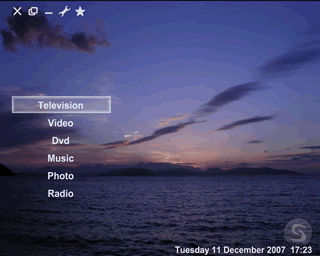 SesamTV™ Media Center has a new easy-to-use interface and a following features:
- Digital Television (viewing, recording, time-shifting, scheduling)
- Audio player
- Video player,
- DVD player
- Photo album
- Playlist
- Internet Radios
SesamTV™ Media Center is a multimedia software designed to be used over:
- TV :managing all your media through a friendly TV user interface, with a remote control, or
- PC :easy-to-use media player that supports many formats and can replace one or more players you're using now.
SesamTV™ Media Center can be used with a Remote Control. Many types are compatible with SesamTV™ Media Center.
With SesamTV™ Media Center you can manage all your digital media lifestyle within one high level user interface.