Need to move files fast? Want to back files up to a second computer? Selkie Quick File Transfer (SQFT, rhymes with 'swift') is fast, easy file transfer between computers. Use this powerful program when you are upgrading to a new computer, or when you want to quickly move documents, photos, music, emails to another laptop or PC. SQFT will save you time and money.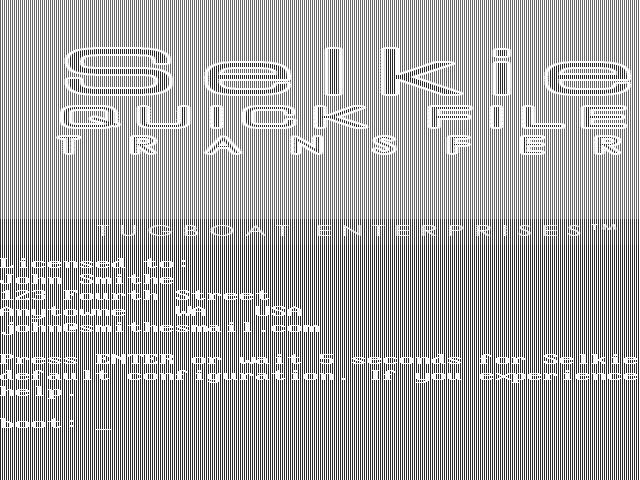 Get the best file transfer software for less than $30. Selkie Quick File Transfer is simple, secure, powerful file transfer software for documents, photos, images, emails, music – any kind of file you keep on your computer! You can transfer all your files, or just select a few important ones. Selkie is fast because you don't have to wait for the program to scan your computer – it connects two computers directly. Selkie Quick File Transfer (SQFT) turns the source computer into a file server. This means all the documents, photographs, music, and files on this computer will be available to any other computer connected with a crossover cable.
Selkie Quick File Transfer uses a special technique which is 100% safe for files of all kinds. The program transfers all files from one computer to another in the same order they were on the original computer. No organization required!
SQFT is an easy-to-use bootable CD. When you turn on the source computer with your Selkie Quick File Transfer CD in its CD drive, Selkie will tell you what to do. SQFT will run entirely from the CD. Selkie's interface is simple – anyone can use it!
SQFT can run on any computer using a Pentium or compatible processor. These include AMD processors such as the Athlon and Duron, and others such as the Cyrix series of chips. To use SQFT you need a crossover cable and a CD drive that you can boot (start) your computer.
Download
System Requirements:
Win 3.1x, Win95, Win98, WinME, WinNT 3.x, WinNT 4.x, Windows2000, WinXP, Windows2003, Windows Vista Starter, Windows Vista Home Basic, Windows Vista Home Premium, Windows Vista Business, Windows Vista Enterprise, Windows Vista Ultimate, Windows Vista Home Basic x64, Windows Vista Home Premium x64, Windows Vista Business x64, Windows Vista Enterprise x64, Windows Vista Ultimate x64, Unix, Linux, MS-DOS, OS/2, OS/2 Warp, OS/2 Warp 4
Version:
3.6.0.
Last updated:
2010-05-06 03:52:32
Publisher:
Tugboat Enterprises Ltd.
Homepage:
http://www.SelkieRescue.com
File name:
SQFTDEMO.exe
File size:
28.6MB
License:
Shareware
Price:
29.99