SecureFX for Windows, Mac, and Linux is a secure file transfer client with advanced features like site synchronization and automation to help network administrators and web designers streamline everyday tasks.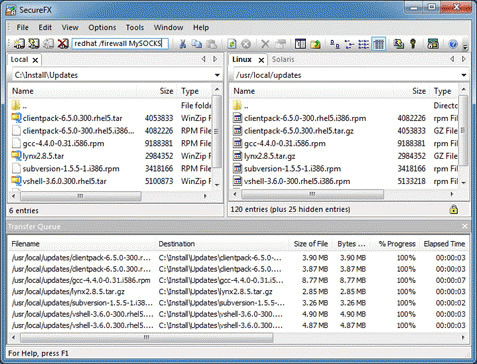 Delivering strong security with SFTP, SCP, and TLS-based protocols, as well as legacy FTP, SecureFX is the tool you can rely on for tough jobs - connecting to multiple servers, resuming multi-file transfers, and getting through network proxies and firewalls.
An easy-to-learn tabbed interface and dockable session manager gets you up and running quickly. Establish a secure connection, then drag and drop files to and from the server and your desktop or other applications (Windows only). The SFXCL command-line utility (Windows and Linux only) allows fully-automated, unattended file transfers. "Relentless" transfers automatically reconnect and resume when connections are broken. Authentication options include password, keyboard interactive, public-key, X.509, and Kerberos v5.
Site synchronization handles upload, download, and true mirroring. Filter a file selection with wildcard support, and store configurations in the synchronize database for quick recall. Named sessions and firewalls let you to save preferences for future use. A personal data folder provides separate storage of logon information so that other configuration data can be stored on a network drive or in the cloud for use on different systems or sharing with colleagues.
A 30-day, fully-functional evaluation includes access to technical support.
Download
System Requirements:
WinOther, Mac OS X, Mac Other, WinServer, Unix, Linux
Version:
9.2.3
Last updated:
2022-08-03 21:19:55
Publisher:
VanDyke Software Inc.
Homepage:
https://www.vandyke.com
File name:
File size:
21.79MB
License:
Shareware
Price:
59.95