FreeBee: Increase the lifetime of your SSD with SSD Fresh! SSD Fresh adjusts your Windows system for using SSDs. SSD drives only have a limited lifetime (i.e. a limited number of write accesses per memory cell). Because of that, all unnecessary writing accesses should be avoided. SSD Fresh configures your system in an optimal way to minimize unnecessary write operations. This increases the lifetime of your SSD. In addition to this, SSD Fresh allows you to tune your PC by enabling or disabling various SSD related features.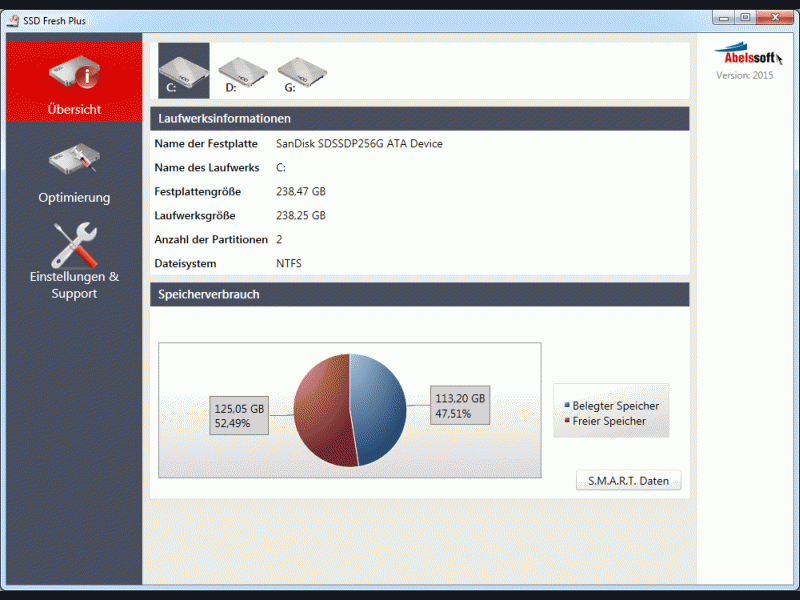 SSD Fresh - The features at a glance:
- View drive information: Get information about your drive and the manufacturer.
- S.M.A.R.T. data overview: S.M.A.R.T. (Self-Monitoring, Analysis and Reporting Technology) is a system for self-monitoring and analysis of hard drives. SSD Fresh provides you an overview of the important parameter and so you can detect problems easily.
- Quick overview, changing and restoring of settings: Simple icons show you immediately whether a system needs optimization or not. All settings of your PC can be optimized with only one click and the changes can be undone just as easily.
And the very best: SSD Fresh is completely FREE!
Download
System Requirements:
Win7 x32, Win7 x64, WinServer, WinVista, WinVista x64, WinXP, Windows 8
Version:
2015l
Last updated:
2018-06-04 16:17:52
Publisher:
Abelssoft
Homepage:
http://www.abelssoft.de
File name:
ssdfresh.exe
File size:
2.46MB
License:
Freeware
Price:
0.00