SQL Decrypter Pro is a sql decryption tool that helps DBA and database programmer decrypt the encrypted sql object. It is suitable to use for programmer & DBA. Now feel the convenience of SQL Decrypter Pro!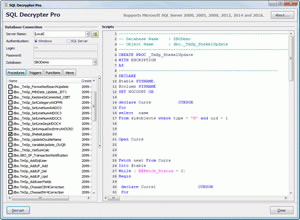 Key Features of SQL Decrypter Pro:
- Work in MSSQL Server 2000/2005/2008/2012/2014/2016 and MSDE.
- Just Click. Not require any knowledge of T-SQL or script.
- T-SQL Syntax Highlighting for faster, easier reading.
- Use Unicode technology during the decryption.
- Decrypt multiple database objects at One Time.
- Full install / uninstall support.