Repairing Access database is now easy with Perfect Data Solutions Access Repair Software. PDS Access recovery tool specially designed to fix access database corruption & repair corrupt access file & restore mdb database with complete mdb objects such as primary/foreign key, queries, auto numbering, relationships etc. Advance MS Access Recovery tool is very simple & easy-to-use MDB Repair software that quickly repair corrupt access file using quick algorithm to deep scan the intensity of corrupted or damaged MDB files. MS Access database recovery software will recover access table, table structure, column name, relationship between tables, queries etc from corrupt access file. Access recovery tool maintain & restore original file formatting while repairing corrupt access database.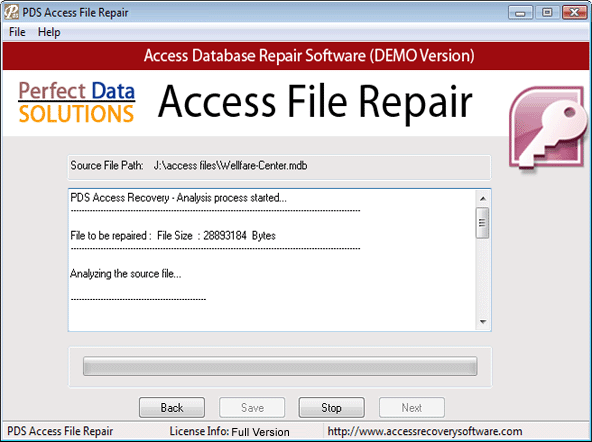 Professional Microsoft Access database recovery software, performing best access file recovery operation & get back complete access database information including every objects of MDB file. Repair Corrupt Access File & Fix Access file program restore access database from corrupted MS Access 95, 97, 2000, 2002 & 2003.
Most excellent features of Access Database Repair Software:
*) Repair Access File even heavily corrupted
*) Rebuild Access database in the original structure
*) Recover Access table, table structure, primary/foreign key, relationship, auto numbering, query etc
*) Recover large amount of Access database file
*) Facility to view the complete mdb recovery log
*) Perfectly Works on MS Access 2003/2002/2000/97 & Windows 98/ME/XP/2003/Vista.
*) 30-Day Money back guarantee
Download freeware Access Repair software Demo Version & know how to repair mdb file & rebuild new working copy of Access database. Demo Version of Access Recovery will not allow the saving of those recovered Access database. Demo version is only for evaluation purpose & judge the software working. Purchase the FULL featured version of PDS Access File Repair software & recover access database.