Microsoft Repair Access Database tool is highly advanced solution of repair access database which help to recover corrupt access data. PDS Access Repair Software provides best MDB recovery solutions for corrupted or damaged Access MDB file. MDB repair tool, fix every types of .mdb corruption like breakdown of system, serious virus attack, show unauthorized data, software and hardware failure problem etc. In such condition don't worried about it! You can speedily scan your .mdb files and access your database in previous working condition. PDS Repair Access file tool and software instantly fix access database and restore all access properties like table, structures, indexes, forms, relations, information, auto numbering and easily restore access database structure etc. PDS Microsoft Access Recovery tool to speedy repair password protected MDB file even if there is no password given. MS Access File Recovery tool repair and fix access database and represent corrupt access mdb files in readable or refresh condition. Repair access database program efficiently access in Win95, Win97, Win XP, ME, Win2000, Win2003, Win Vista and Win7.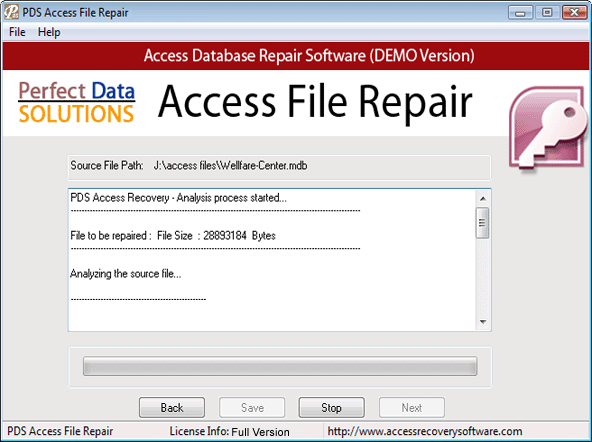 Upgraded feature of Repair Access Database tool
* Easily recover mdb files and fix access database tool.
* Repair unreadable access database files.
* Resolved every MDB file corruption in very short time.
* Repair password protected access file even if there is no any password set in mdb file.
* MDB repair tool excellently perform recovery on all Windows OS including Win 7.
* Recover Access database from MS Access 97, 2000, 2002, 2003 database.
* Instantly recover table, auto numbering, micro, information and other accessories of Microsoft Access database.
Repair Access Database Software available as trail version which helps to repair access mdb file and see the recovery result. Demo version software restricts the saving of repaired mdb file. Purchase licensed version at $89 and save repaired access database file.