PowerWord is designed for people learning or practicing Chinese at all levels. It is also a handy tool for Chinese to learn English. For beginners, PowerWord guides you word by word through explanations, examples, pronunciations and translations. For professionals, PowerWord provides the most comprehensive Chinese and English database that covers all areas with its easy to use interface for all of your translation, research and study needs. That is why PowerWord is used in more than 50, 000 educational institutes, businesses and government agencies all over the world by more than 20 million people. Providing all your language and translation needs through the comprehensive English and Chinese database with more than 200 million words, abbreviations, and names from 6 internationally recognized Chinese English dictionaries. Plus it has a large variety of terminologies used in almost all professions from more than thirty Scientific, Engineering, Law, Medical, and Business dictionaries.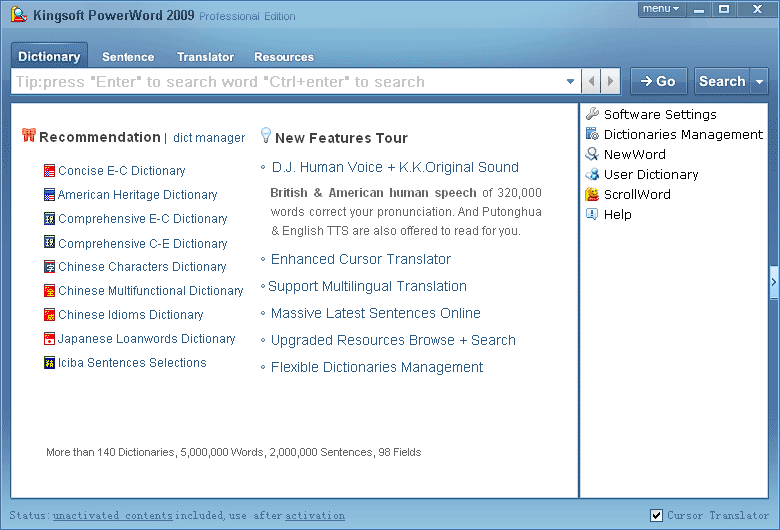 Instant two-way English Chinese translation at cursor point on documents by all popular software such as Microsoft Office, Outlook, and Acrobat Reader. Real time translation of web content at cursor point.
It pronounces English and Chinese (Standard Mandarin) words and sentences by native male and female voices for you to learn to speak like a native speaker.
Comprehensive explanation of Chinese and English words and cultures by various means such as the origin of words/characters, definitions, phrases, examples, synonyms, and antonyms for each word and character.
It allows the user to search the entire Internet on selected words in Chinese or English with one click through popular search engines such as Google, Yahoo, MSN and AOL.
User-friendly English or Chinese interfaces put all the tools right on one screen, making learning and translation easy.
Download
System Requirements:
WinXP, Windows2000, Windows2003
Version:
2010
Last updated:
2010-06-23 04:08:10
Publisher:
Javvin Company
Homepage:
http://www.javvin.com
File name:
powerword.zip
File size:
244.14MB
License:
Demo
Price:
69.95