Players Commander is the ultimate management software for your games.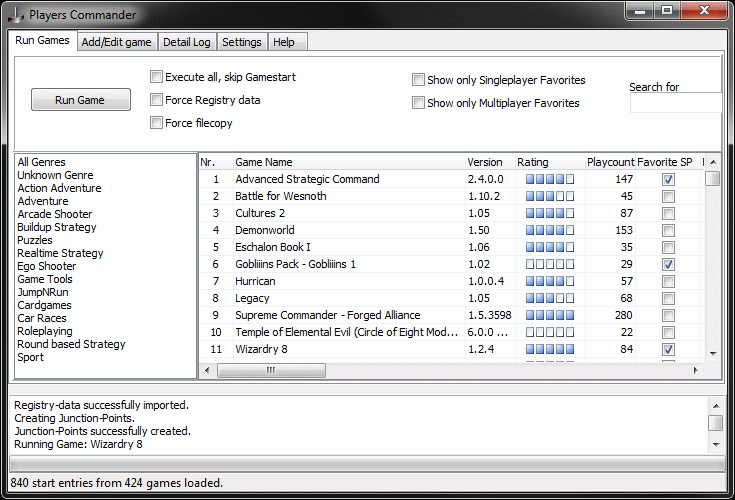 Players Commander Features:
+ Get your games into Players Commander and you never need to re-install them, even if you re-install your OS or buy a new PC*.
+ Easy transfer desired games and/or savegames to another PC.
+ Play games directly from a mobile hard disk on any other PC which is capable to run the games. Just start and play!
+ Allows you to use different versions of a game. Play the latest version, older game versions or with modifications as you like.
+ Optionally join all savegames locations in ONE folder, making savegame backup much easier.
+ Optionally assign a game's savegame folder directly into the game's folder.
+ View games by genre, single player favorites or multi player favorites.
+ View play counts.
When you re-install your OS, or if you buy a new PC, Players Commander saves you from:
- re-installing every single game manually.
- searching and installing the latest patches for every single game.
- loosing your savegames.
- creating savegame backups.
How Players Commander works:
After protocolizing the game installation you can get the game into Players Commander. The build-in Wizard can move the game
to a separate hard drive or partition (highly recommended). All details are saved in the Players Commander database. This allows
to start the game in an OS were it was never installed.
System Requirements:
- Windows 7 (all Editions), Windows Vista (all Editions), Windows XP (Home/Pro), Windows 2000
- A hard disk or a partition for the games. This should NOT be the partition were the OS is installed.
* Let Players Commander move your game installation to a separate hard drive (or partition) is required for this feature.