PalmaryClock Wireless Edition s not just an improved clock, it is a technological breakthrough. Your Palm can now be not only a powerful organizer but a real-time assistant in your business! Nowadays it is very important to have the latest reliable information, and with the help of PalmaryClock Wireless Edition it is as easy as a pie.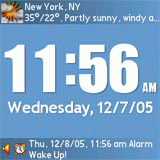 The latest currency information, weather forecasts and exact time are seamlessly integrated for you!
Features
- Weather Forecast for 1300 cities (provided by AccuWeather.com)
- Currency Converter
- Atomic Time Syncronization
- Wireless autoupdate
- An ability to specify the button to switch on the device and automatically start PalmaryClock.
- An ability to launch an application or timer on alarm
- New skins with calendar
- User's skins
- User's backgrounds
- Easily adjustable and intuitive alarms and timers control from the main clock screen
- Slideshow mode
- Personal user settings for every skin
- Analog clock
- Digital clock
- Analog-digital clock
- Unlimited number of Alarms with enhanced settings
- Unlimited number of Timers
- Ten independent Stopwatches
- World Map view with additional thematic maps
- World Time with integrated World Map
- Sunrise/sunset, Internet time and Time calculator for cities or for free location
- Moon phases view
- MP3/WAV/OGG/WMA alarmtones support using built-in decoder or external player (PocketTunes or Aero Player)