PDF Encryption Software is an exigent and exemplary "Standalone" application which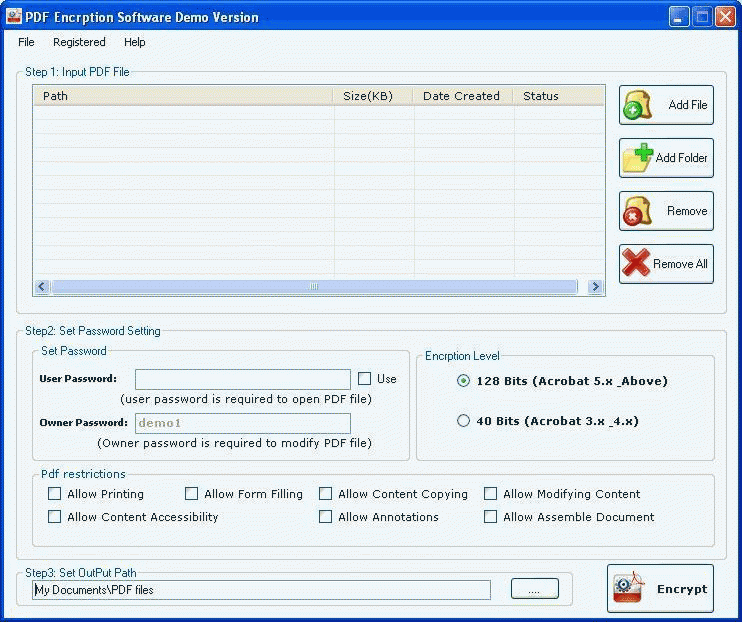 is developed under and runs on Windows platform to make pdf document password
protected (encrypt) from unauthorized access and allows security in two ways –user/
owner password protection. Pdf Password protected document used to prevent pdf file
from content copying, printing, merging files, changes in date and time, modification to
subject, title, subtitle, and illegal signature etc. PDF Encryption software provides high
security to imperious pdf file needed for discussion, conference meeting, contract papers
etc.
PDF Encryption Software possess high intelligent processing speed with pdf batch
transformation operation to password protected pdf file (encrypt document) without
distortion to source file (PDF File) which saves time and effort of professionals.
Encryption Application supports all properties and settings of pdf formats and disabled
action performed at time of information access without key password to master pdf
file. Versatile Encryption utility doesn't require skilled manpower for installing
and configuration as process of making pdf password protected is very simple and
understandable to every level of powerhoods professional. PDF Encryption Tool is
comprehended with some cited features.
Key Features:
*Encryption tool run Independently,
*Provide Pdf file either by user password protection /owner password protection,
*Set all File Permissions from unauthorized access of information ,
*Provide Security to PDF file immediately,
*Prevent PDF file from copying content , illegal signature, printing , merging,
*Disable actions related to changes ,
*Select document part to be encrypted,
*Support drag and drop function.
*Doesn't require Adobe Acrobat and Acrobat Reader ,
*Compatibility with all latest versions of Windows.