Online Email Manager is a comprehensive email management and subscription system. You can use it to keep visitors updated with the latest information, improving customer relationships. Online Email Manager has a fast and intuitive interface, so you'll be able to start using it quickly. It has all the features you'll need including Unlimited Subscribers, EMail List Management, EMail Template Management, EMail File Import, Multiple Format Export, Multiple Email Deletion, and EMail Validation.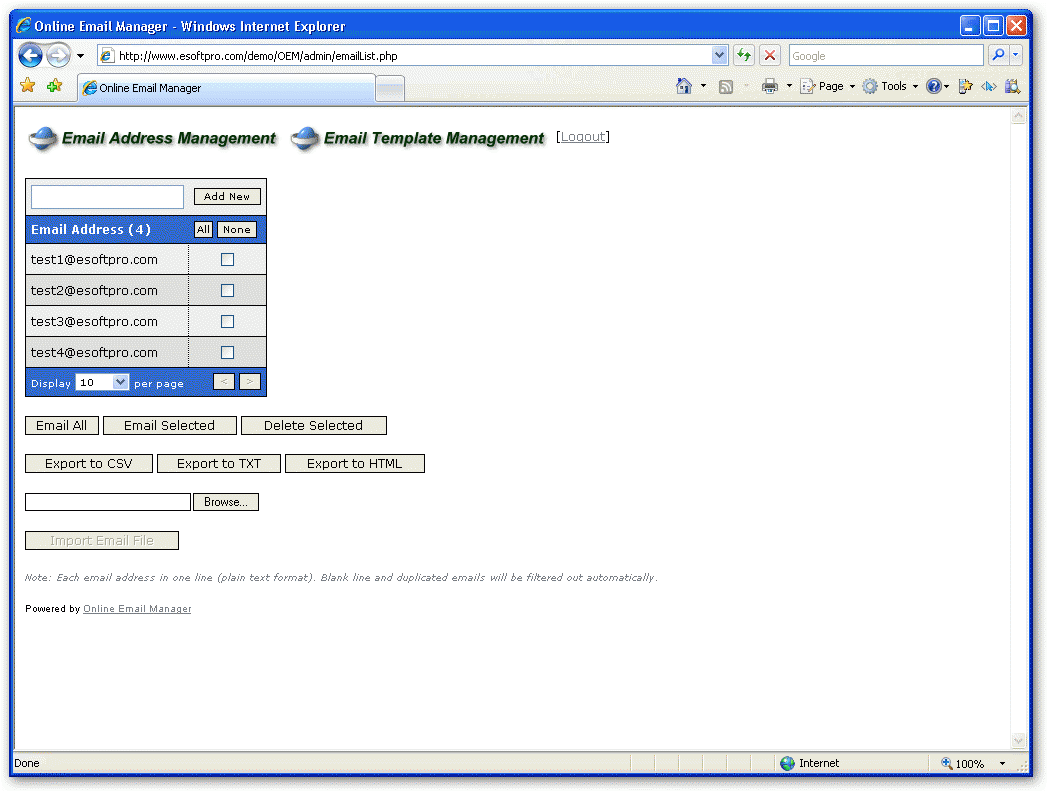 Do you expect your visitors and clients will keep visiting your websites for news and updates? It'll be uesless if they don't even know about it.
Do you know that subscribers often become your key customers at the end of the day? Telling them your new products and services today!
Do you need a tool that will allow you to manage your subscribers or customers without the hassel? Online Email Manager will be especially useful if you have to send similar emails in a regular base.
Main Features:
Very easy to install,
Scaleable database backend,
Password protected web-based admin area,
Unlimited subscribers,
Unlimited templates,
Email list management,
Email template management,
Import emails from file,
Export email list to multiple formats,
Email validation,
Email confirmation after subscription,
Duplicated email filtering,
Multiple email deletion,
Multiple email selection,
Un-subscription email footer,
Email Count,
Entry per page options,
Email to all subscribers,
Subscription form sample,
and much more.
Download
Alternative Download 1
System Requirements:
Win 3.1x, Win95, Win98, WinME, WinNT 3.x, WinNT 4.x, Windows2000, WinXP, Windows2003, Windows Vista Starter, Windows Vista Home Basic, Windows Vista Home Premium, Windows Vista Business, Windows Vista Enterprise, Windows Vista Ultimate, Windows Vista Home Basic x64, Windows Vista Home Premium x64, Windows Vista Business x64, Windows Vista Enterprise x64, Windows Vista Ultimate x64, Unix, Linux, Linux Console, Linux Gnome, Linux GPL, Linux Open Source, MS-DOS, AS/400, OS/2, OS/2 Warp, OS/2 Warp 4, MAC 68k, Mac PPC, Mac OS 9, Mac OS X, Mac OS X 10.1, Mac OS X 10.2, Mac OS X 10.3, Mac OS X 10.4, Mac OS X 10.5, Mac Other, Palm OS 1.0, Palm OS 2.0, Palm OS 2.1, Palm OS 3.0, Palm OS 3.1, Palm OS 3.2, Palm OS 4.0, Palm OS 5.0, Palm OS 6.0, Windows CE, Pocket PC, Windows Mobile 2003, Windows Mobile 2005, RIM, Symbian, Handheld/Mobile Other, OpenVMS, Netware, BEOS, Java
Version:
2.0
Last updated:
2010-05-06 06:15:06
Publisher:
ESOFTPRO.COM
Homepage:
http://www.esoftpro.com/
File name:
OEM.zip
File size:
0.3MB
License:
Commercial
Price:
24.95