Omnistar Forms is a dynamic website form builder that allows you to easily create forms for any web site without doing any programming. You will be able to create custom forms with unlimited fields and have the submitted information stored in a secure backend area. The use of Omnistar Forms will allow you to better communicate with your customers and will help take your business to the next level.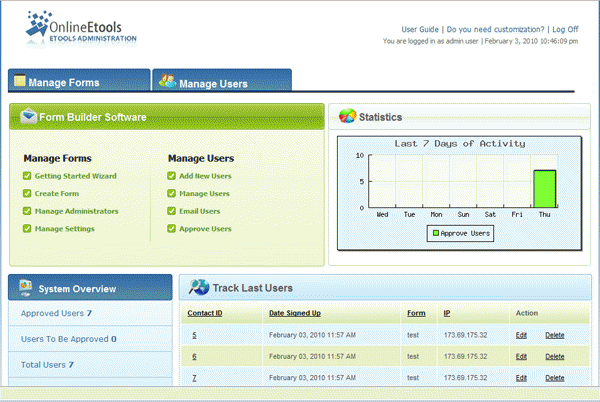 * Provide an Alternate Means of Communication - With the addition of web forms to your site, you give your customers and prospects an alternate way of contacting. The web forms simply increases the likelihood that your customers will be able to reach you.
* Create a Datebase of Prospects - The Omnistar Forms software allows you to gradually build a database of prospective clients that you can market to in the future.
* Easily Search For Submitted Information - Omnistar forms includes a user friendly form data management area that will allow you to easily retrieve submitted data by doing keyword searches. The stored information can also easily be exported for use in any other program or database.
* Send Customized HTML Emails - When your database has grown and you are looking to communicate with those that submitted your forms, you can quickly and easily send out a customized HTML email. The Omnistar forms includes 19 professionally designed HTML email templates that you can select and customize.
* Provide Customer Support - The addition of Omnistar Forms on your site can become an alternative to your standard phone support. Your customers will be able to easily submit your forms with details on their customer support issue.
Download
System Requirements:
Handheld/Mobile Other, Java, Linux, Linux Console, Linux Gnome, Linux GPL, Linux Open Source, Mac OS X, Mac Other, MS-DOS, Netware, OpenVMS, Palm, Pocket PC, Symbian, Unix, Win98, WinXP, Other
Version:
3.2
Last updated:
2010-06-28 17:45:35
Publisher:
Omnistar Interactive
Homepage:
http://www.omnistaretools.com/omnistarforms/
File name:
software.zip
File size:
4KB
License:
Commercial
Price:
87.00