Lack of automated identity management procedures contributes to higher IT help desk costs, bad security, and failed compliance audits.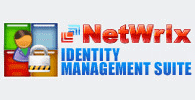 Netwrix Identity Management Suite is a set of integrated tools that solve the most critical identity management challenges in Active Directory environments:
- Forgotten passwords generate more than half of IT help desk calls. The Suite includes a web-based self-service password management tool that allows users to reset their passwords without contacting the help desk.
- Increased number of account lockouts is the inevitable result of strong password policies. The Suite includes an account lockout management tool to monitor and resolve lockouts in real-time and identify the root cause to prevent similar lockouts.
- Expiring passwords is another symptom of secure password policies. Non-interactive users never receive password change prompts at logon time and this results in failed logins and lockouts when their passwords expire. The Suite includes a mechanism that sends automated reminders by e-mail that makes sure that users proactively change their passwords.
- User accounts for terminated employees represent a significant security risk and must be disabled immediately after employee quits an organization. The Suite includes an automated scanner of inactive users that reports and automatically deactivates inactive users after certain period of inactivity.
NOTE: Price for 150 users is $1860. Please contact Netwrix Corporation at www.netwrix.com to obtain more information.
Download
System Requirements:
WinXP, WinVista, WinVista x64, Win7 x32, Win7 x64, Win2000, WinServer
Version:
3.487.0
Last updated:
2021-08-01 14:19:51
Publisher:
Netwrix Corporation
Homepage:
http://www.netwrix.com
File name:
File size:
33.29MB
License:
Shareware
Price:
1485