Voice changing software for online games, VoIP, and the multimedia. Take your voice-changing to a new level with superior voice-learning technology and sound quality. The new version sports an enhanced professional user interface, extended file format support and an extensible plug-in architecture.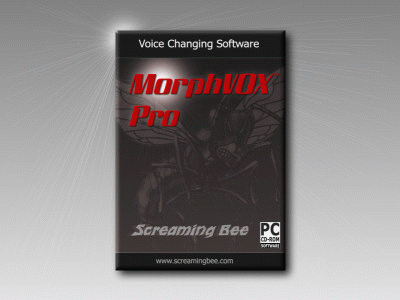 Download free voice and sound packs adding hundreds of new voices and sounds to MorphVOX. Tweak each of these voices to your heart's content to produce unlimited voice modification.
The new product has a completely redesigned user interface with user-accessibility in mind. The all-in-one graphics interface simplifies the workflow for voice manipulation. The "Studio Mode" setting puts all the major voice controls in a single resizable window, boosting user productivity.
MorphVOX Pro superb voice changing algorithms and ultra-quiet background cancellation make it one of the cleanest-sounding voice changers available on the market. Its high-quality sound is perfect for creating voice-overs for your latest video or audio project.
And MorphVOX Pro is optimized for online games. Change your voice to role-play and add fun to online games. MorphVOX Pro can be used with World of Warcraft, Second Life, EVE Online, Counter-Strike, Everquest, Dungeons and Dragons Online, GuildWars and much more.
Features:
Smarter voice learning for superior voice changing
Backgrounds - traffic jam, shopping mall
Multiple file format support including MP3
Integrates easily with online games and chat programs
Low bandwidth and CPU usage
A variety of voice changing packs available
Built-in High-impact sound effects
Add your own sound library
Full key, mouse and joystick support for gamers
Quick Effects let you play any sound with a single button
Customizable Alarms
After effects for enhanced voice changing
Advanced vocal tract effects
Voice Content Creation Module - easily create voice-overs
Download
Alternative Download 1
System Requirements:
W7, W8, W10, W11
Version:
5.1.58
Last updated:
2023-01-28 14:18:45
Publisher:
Screaming Bee Inc
Homepage:
http://screamingbee.com
File name:
MorphVOXPro5_Install.exe
File size:
8.07MB
License:
Commercial
Price:
39.99