The MoneyToys Flash Payment Calculator allows you to quickly enhance your web site by adding a financial calculator which your visitors can use to calculate loan payments without leaving your web site. This loan calculator is easy to install on a web site by using a few lines of HTML and uploading the calculator file to your web server.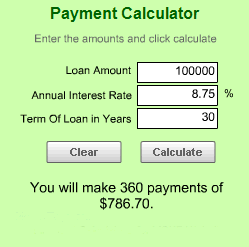 MoneyToys(tm) website calculators give webmasters a simple way to add value to a web site by providing their visitors with financial calculators which are easy to install and configure. Installation requires only a few lines of HTML and the MoneyToys calculator. The cost-effective perpetual license allows you to add long term user-friendly functionality to your web site.
Installation is easy! Simply copy the online calculator to the appropriate directory on your web server and add the included HTML code to your web page. That's all it takes! Then, you can set your own initial values for the calculators and you can make the colors match YOUR site! Configure the font, font size and calculator size to match your site's design. All MoneyToys calculators include step-by-step installation instructions and three sample web pages with cut-and-paste code for your web pages.
Included in the growing collection of 17 MoneyToys web site calculators are:
* Simple Loan Calculator
* Average Interest Rate Calculator
* Biweekly Payment Calculator
* Down Payment Savings Calculator
* Very Simple Loan Calculator
* APR Calculator
* Closing Costs Calculator
* Home Seller's Proceeds
* Refinancing Calculator
* Rent or Buy Calculator
* Loan Spread Calculator
* Cash Flows Calculator
* Future Value Calculator
* Pay Down or Invest Calculator
* Loan Comparisons Calculator
* Mortgage Qualification Calculator
* Payment Calculator
Download
Alternative Download 1
System Requirements:
Win95, Win98, Windows2000, WinXP, Windows2003, Windows Vista Starter, Windows Vista Home Basic, Windows Vista Home Premium, Windows Vista Business, Windows Vista Enterprise, Windows Vista Ultimate, Mac OS 9, Mac OS X, Mac OS X 10.1, Mac OS X 10.2, Mac OS X 10.3, Mac OS X 10.4, Mac OS X 10.5, Not Applicable
Version:
3.0
Last updated:
2010-11-23 12:31:31
Publisher:
Wheatworks Software, LLC
Homepage:
http://www.moneytoys.com/
File name:
mtpsetup.exe
File size:
38KB
License:
Commercial
Price:
39.95