Encoding of PHP Script with MavorsGuard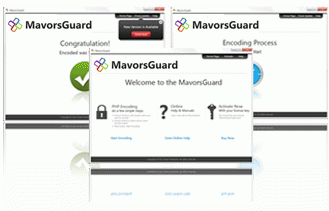 Protect your PHP source code with powerful software PHP encode
More about MavorsGuard
The most common problem of PHP code is unlicensed using of your PHP product because it is open source code. Most of developers is afraid this problem. However, we have solution of this problem - MavorsGuard PHP encoding. Our PHP encoding software is able to do so this problem will never occur to the developers. Can you imagine that another person steals source code of your PHP product, and he want change it, but first thing he sees, will be encoded PHP by MavorsGuard. Moreover, what he will see? He will see protected PHP code. He will not be able to change it. Nevertheless, it is not all. Imagine that another person has copied your PHP project and want to run it on another domain name / ip address. He will be surprising when he will see that project is does not work! Because MavorsGuard PHP encoding software gives opportunity to attach your project only on one domain name, that gives 100% safety guarantee.
Don't lose PHP Scripts and yours Clients!
For people who developing web applications for customers, MavorsGuard PHP code protection may be indispensable thing that makes it possible not to lose their customers. Someone may ask, "How it is look?" - Very simple! Because if you encode your project with MavorsGuard PHP encoding software, source code remains with you, and a client have only bytecode which he can not read. So if your client will want to change something in project, he must contact only with you, because only you can help him.
Encoding with MavorsGuard
software is very easy and effective!
With MavorsGuard PHP source code protection, it will not take much time! All that you need to do is click with your mouse several times.
Download
System Requirements:
Win7 x32, Win7 x64, WinServer, WinVista, WinVista x64, WinXP
Version:
1
Last updated:
2011-06-05 08:23:52
Publisher:
Kivals Enterprise
Homepage:
http://www.kivals.com/
File name:
MavorsGuard_Setup.zip
File size:
0.22MB
License:
Shareware
Price:
99