Remember the days when website images were static and lifeless? Not any more!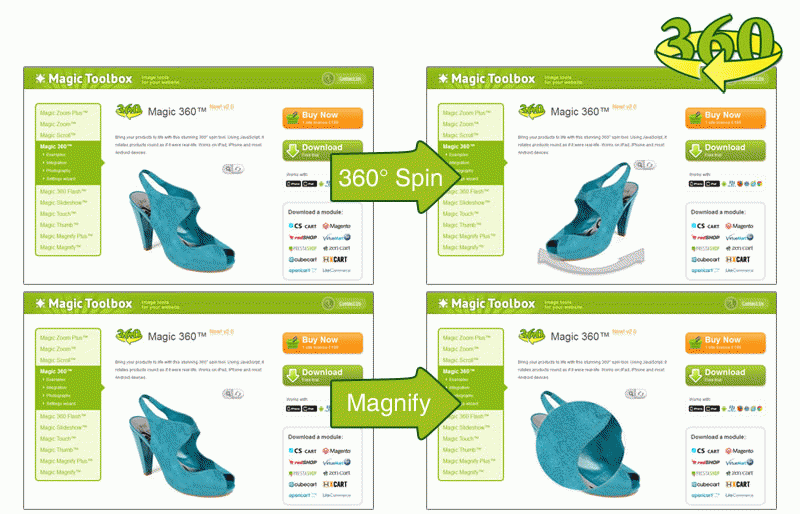 Magic 360 brings images to life by spinning them round to show them from all angles in 360 degrees. Customers can view every part of your products, almost as if they were in a shop actually holding the product.
Magic 360 does this by merging lots of images into an interactive one. You can use any number of images - most leading ecommerce sites use either 18, 36 or 72 photos.
Users can even zoom into each image by clicking it, revealing a high resolution close-up. Talk about seeing every detail!
Unlike other 360 spin scripts, Magic 360 works everywhere: iPad, iPhone most Android devices and all major browsers. That's because it is a 360 JavaScript spin - it does not use Flash, so all your users can enjoy your 360 degree spins. Whether they are on the move with their mobile phone, tablet or using their computer, JavaScript is supported by all devices.
Users can spin on hover, drag or mousewheel. You can even set images to spin automatically on page load once, twice or infinitely. Other settings can be changed too - the speed, buttons, loading icon, magnifier and more.
Need inspiration? Check out over 15 examples on our site or use the wizard to pick your ideal 360 product spin settings.
For maximum impact, use clear and crisp images. Either shoot the photos yourself or hire a professional 360 photography studio to do it for you.
It only costs $50-$100 for a full set of 36 photos. No wonder leading retailers named 360 photography as their most important user-experience improvement for 2012.
If you want a photography quotation, please email us.
Magic 360 is easy to install in 4 simple steps. And thanks to the wizard, you don't even need to write any code. If you need help, just email our tech support team any time.
Download the free trial now and see how impressive it makes your website feel.
Another awesome tool from the design crew at Magic Toolbox.
Download
System Requirements:
Not Applicable
Version:
2.0
Last updated:
2012-02-15 07:47:31
Publisher:
Magic Toolbox
Homepage:
http://www.magictoolbox.com
File name:
magic360-trial.zip
File size:
4.43MB
License:
Shareware
Price:
310