Did you ever want to know what your internet IP address is?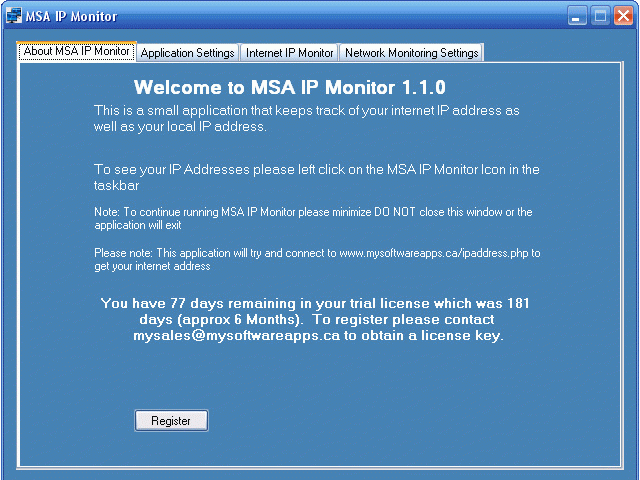 Did you ever want your dynamic hosting services updated automatically when your IP Address changes?
Did you ever want to monitor your network and website(s) for down times?
Did you ever want to be notified by e-mail or sms text messaging right away when there is a problem?
Did you ever want it at your fingertips at all times?
Well now you can... Introducing MSA IP Monitor your one stop shop for all of your ip monitoring needs . MSA IP Monitor is a small, efficient and cost effective software that will tell you your local IP Address(s) and your internet IP address. MSA IP Monitor will automatically update certain dynamic dns hosting services (eg. dyndns and no-ip) for you when your ip address changes. MSA IP Monitor is able to monitor your local network or website by ip, host or url and will notify you of any downtimes by e-mail or an sms text message. MSA IP Monitor can also do a reverse monitor on an IP or URL and will notify you when the IP becomes available. This is very useful for tracking when a computer or game console (that is connected to the internet) is turned on. MSA IP Monitor now supports SMS Text Messaging and makes use of the clipboard. This program is dynamic so you can disconnect and re-connect from your network or the internet and it will display your new IP addresses for you. You can also set a time duration in minutes that MSA IP Monitor will check your internet ip address and monitor your network, if it changes you can be notified by e-mail and sms text messaging each time your internet ip address has changed.