Lady's Calendar will help every women to keep her health in order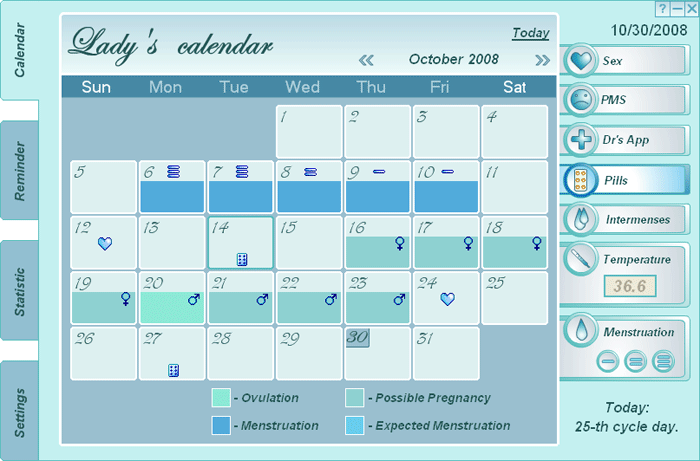 One of the most expensive things in the world is the health. Particularly for woman, becouse our world is replete with stresses and different problems. That's why sometimes we forget about our health. This program will help any woman to look after oneself, care about health, quickly respond to changes in functioning of her body, attending to this process only few minutes per day.
Ability to see scheduled menstrual cycles, ovulation, possible pregnancy, etc
Some times menstruation starts not in a proper moment. Woman in this time fill yourself undefended, usually, thanks to the peculiarity of woman's organism, her plans are breaking. Using Lady's Calendar helps you plan your business, vacations, private life, other, without any unpleasant surprises.
This tool will remind you about your planned Dr. appointments, taking pills or any other personal plans
Included reminder helps you to plane your time, be in time for any important events such as taking pills, dr's appointments, meettings ect. Using Lady's Calendar you will be able wath statistic of occured events. Also reminder you can use as your private blog.
Small and compact program, designed with "Easy-to-Use" concept in mind
Lady's Calendar created specially for woman. It means that this tool is extremely easy in use , no special skills or knowledge is required. Lady's Calendar is exactly what you need!
Private data protection with a password
Security is one of important things in our life. Authors of Lady's Calendar understand this problem and created tool that supported security in high level. All inputted data are encrypted by TrippleDES encryption algorithm and access to program protected by password.
Download
System Requirements:
WinME, WinNT 3.x, WinNT 4.x, WinXP, Windows2000, Windows2003, Windows Vista Starter
Version:
2.0.1
Last updated:
2010-11-23 14:06:41
Publisher:
Lady's Calendar
Homepage:
http://ladys-calendar.com/
File name:
LadysCalendar_Trial.exe
File size:
0.72MB
License:
Shareware
Price:
19.95