Internet Safe For Kids Web Browser has been designed to be aesthetically pleasing and simple to use for children aged 3 years and upwards. It comes preloaded with 12 parent approved, fun and educational websites and once a password is set will work right out of the box.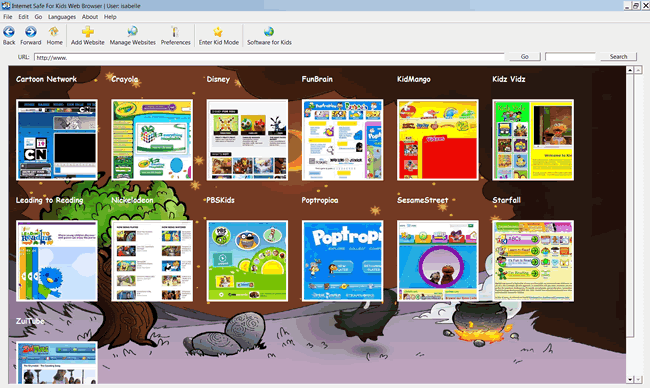 With the Internet Safe For Kids Web Browser your children can safely browse websites you specify and have a safe web experience at any age.
If you require more control over time spent and the websites accessed by your child, this is a quick and simple task and should you require help, within the web browser itself there is also a help menu.
With our web browser you can set a password which will prevent your child exiting the safety of the web browser and accessing unapproved websites this will also deny access to the operating system files.
Monitor the time your child spends on the computer by setting a session limit to a desired number of minutes.
Parents can easily add and remove websites to their children's allowed websites list.
Homepage backgrounds are fully customisable with either the preset images or a family photo from your computer.
Creates a safe and secure online environment for children.
Download a free 30 day trial, no email no obligation to buy. If you like our software just click the register button and you will be directed to our payment page
The software will run for a period of 30 days before requiring a registration code and is a full working demonstration trial.
US price $11.99
UK price £7.99