ImPDF HTML to PDF Converter Command Line is a Command Line application that can be used to convert HTML files to PDF files. HTML to PDF Converter Command Line is able to convert web pages to PDF files from Internet, just specify its URL in source file location parameter, and program will convert the web page to PDF without need to save it to local disk first. Also, HTML to PDF command line supports conversion of the whole file folder or even a few folders. This allows to process all required files within one conversion command.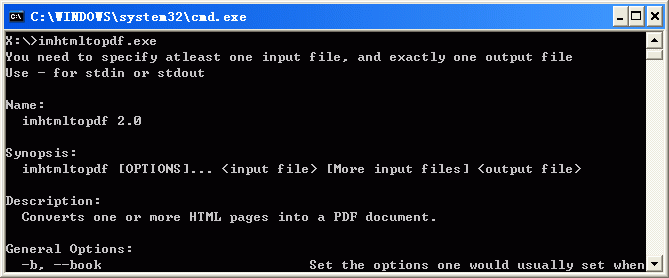 HTML to PDF Converter Command Line application has following features:
1. Set owner password and user password to output PDF files.
2. Set user permissions like copy, modify, print, etc.
3. Add watermark stamp to output PDF files.
4. Batch convert any number of HTML files to PDF files at one time.
5. Take html file or remote webpage as input, load the html content into standard browser, render the html content into a standard PDF file.
6. It can be used on multiple OS platform like Linux and Windows.
7. Convert html or URL to PDF on the fly.
8. Able to handle the complex web pages on the internet.
9. Support the standard CSS style sheet and JavaScript in html. It might be employed to convert both the live web pages and nearby html files like invoice report into PDF.
10. Support page header and page footer options.
11. Able to set the margins to output PDF files.
12. Convert html to pdf with the industry strength html render engine.
13. Fast and reliable html to PDF Converter.
14. Support both 32 and 64 bit platforms.
15. Support Windows platform with flash movie support.
16. Support many linux distrubution like ubuntu, Fedora, CentOS, Redhat etc.
17. Also support html to PS on linux platform.
18. Save the image in html files into pdf file as well.
19. Support standard paper size.
20. Royalty Free License available.
Download
System Requirements:
Win98, WinME, WinNT, WinXP, Windows2000, Windows2003
Version:
2.0
Last updated:
2011-07-01 08:02:19
Publisher:
ImPDF.com Inc
Homepage:
http://www.impdf.com
File name:
File size:
10.7MB
License:
Shareware
Price:
199