Gold Media Player is a clean and easy-to-use all-in-one player. Gold Media Player supports most popular media files (AVI, 3gp, ASF, FLV, Matroska, MOV QuickTime, MP4, NUT, Ogg, OGM, RealMedia, DivX plus many more). You can watch VideoCD, SVCD, DVD, 3ivx, DivX 3/4/5 and even watch video files while you are downloading them!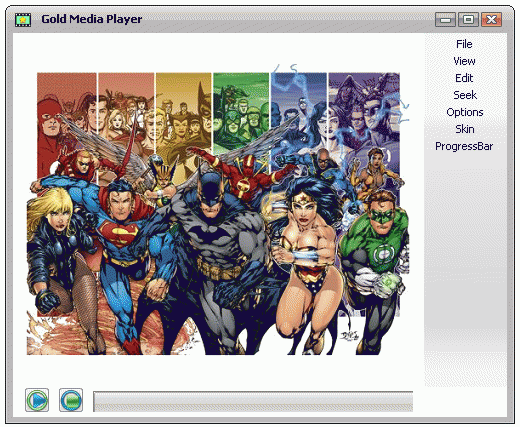 Gold Media Player also offer an onscreen display (OSD) for status information, nice big antialiased shaded subtitles and visual feedback for keyboard controls. European/ISO 8859-1, 2 (Hungarian, English, Czech, etc), Cyrillic and Korean along with 12 subtitle formats (MicroDVD, SubRip, OGM, SubViewer, Sami, VPlayer, RT, SSA, AQTitle, JACOsub, PJS and our own: MPsub. As well as supporting DVD subtitles (SPU streams, VOBsub and Closed Captions).
Here are some key features of "Gold Media Player":
Audio track switching. You can choose the audio track you want to listen. Works with avi and mkv. And of course with DVDs.
Seeking by mouse wheel. You can use your mouse wheel to go forward or backward in the video.
Video equalizer, allows you to adjust the brightness, contrast, hue, saturation and gamma of the video image.
Multiple speed playback. You can play at 2X, 4X and even in slow motion.
Filters. Several filters are available: deinterlace, postprocessing, denoise and even a karaoke filter (voice removal).
Audio and subtitles delay adjustment. Allows you to sync audio and subtitles.
Advanced options, such as selecting a demuxer or video & audio codecs.
Playlist. Allows you to enqueue several files to be played one after each other.
Autorepeat and shuffle support.
Preferences dialog - You can easily configure every option of Universal Media Player.
Download
System Requirements:
Win95, Win98, WinME, WinNT 4.x, WinXP, Windows2000, Windows2003
Version:
1.5
Last updated:
2010-11-23 11:38:41
Publisher:
FreeVideoMaster
Homepage:
http://www.freevideomaster.com
File name:
GoldMediaPlayerSetup.exe
File size:
7.85MB
License:
Freeware
Price:
0