Block USB/SD Drives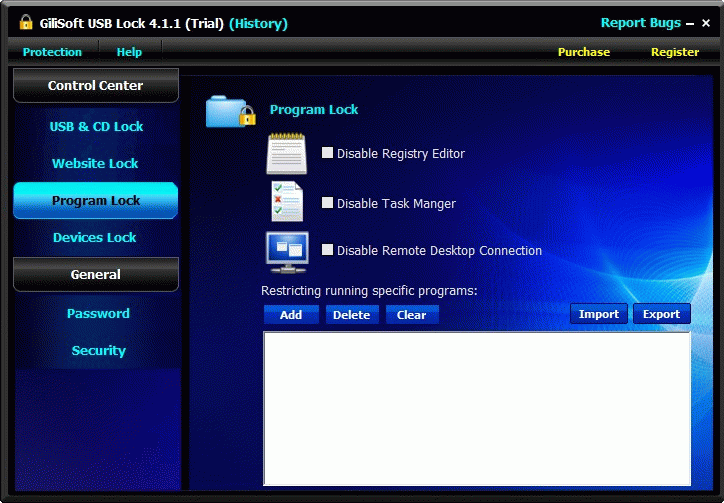 Disable reading from USB/SD disks or disable writing to USB/SD disks. It doesn't allow any type of USB/SD drive to access your computer unless you authorize it or it has been in trusted devices White-list.
CD Lock, Block Media & Blu-ray Discs
Disable reading from DVD/CD discs or making DVD/CD burner read-only. This application also blocks any disc that uses the disk hub, bay, combo or CD/DVD drive and allots a drive letter.
Trusted Devices White List
You can create a whitelist to allow 'certain approved' USB pen drives. Then it will block all USB drives except the ones in the white-list.
Reports & Logs
USB Lock provide full reports and logs: (1) USB Activity - Monitor all file operation (like create delete files ) on all USB disks that connected to your computer. (2) Deny & Allow Access History. (3) Activity White List.
Website Lock
Block accessing some websites. This utility allows you to block unwanted websites from display in Internet Explorer. If a website is blocked the user is forwarded to a blank page or to a "blocked page" and the contents of the original page are not loaded on your PC.
Devices Lock
The program can be used to restrict read or write access to removable media devices such as CD, DVD, floppy, SD Card Readers, flash and USB drives. It also can be used to disable iPhone, Android phone, printer, modem, com lpt ports, infrared, blue-tooth, 1394 ports.
Copy Protection
The program uses an advanced level of data leak prevention technology that does not permit duplication of your important files and copyright material to any USB drive or other such storage devices without your permission.
Data Leak Prevention
It prevents your data from getting leaked out to USB drives and other such storage devices by letting you control which device can access your computer while blocking all other unauthorized devices that do not belong to you.
Download
System Requirements:
Win2000, Win7 x32, Win7 x64, WinVista, WinVista x64, WinXP
Version:
10.2.9
Last updated:
2022-05-24 13:16:31
Publisher:
GiliSoft International LLC.
Homepage:
http://www.gilisoft.com
File name:
usblock_installer.exe
File size:
0.14MB
License:
Shareware
Price:
49.95