Flying Money Manager v. 2.5 for UIQ 3.x is professional finance and budget manager enabling on-the-go access to your account balances, transactions, register.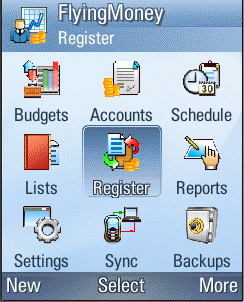 • Track your personal and business expenses, deposits and transfers, scheduled and other transactions associated with your bank accounts;
• Always stay on budget
• Generate customized Reports in CSV format for integration with Excel for further analysis.
Take control of your money with your handheld!
Main Features
• Fast and Convenient Data Entry
• Registry view Filter by Date Range, Account, Types.
• Budgets: setting up and reports
• Scheduled Transactions:weekly, monthly, etc
• Memorized Transacations.
• Search Transaction tool.
• Export/Import to QIF format for integration with desktop finance software like MS Money, Quicken etc.
• Unlimited Number of Accounts
• Multiple Account Types e.g. Checking, Saving, Cash etc
• Account balances at a glance
• Extensive and easy to use Reporting tool with export to MS Excel ( .csv)
• Customizable Categories, Expense and Incomes Types, Payment Types and Currencies.
• Back-up and Restore your financial data.
• Support of multi-currencies transacations.