Flock, The Social Web Browser built for facebook and twitter. Share web pages, photos, and video. Update your status and make comments from anywhere on the web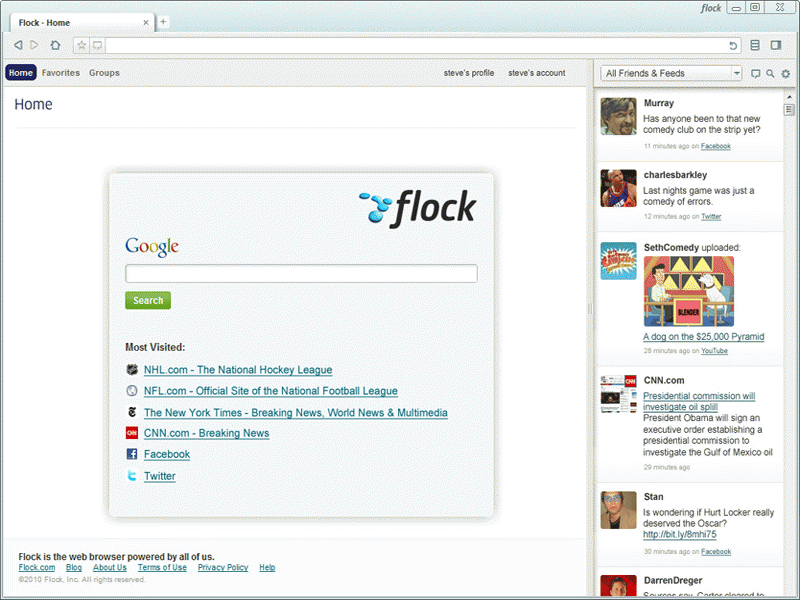 New Flock starts fast. It loads pages fast. And it handles JavaScript really fast.Most of the features in Flock use JavaScript. The JavaScript engine in Chromium allows Flock to keep you up to date with all your friends and favorite feeds, while keeping the browser's performance top notch.
The New Flock Sidebar. The sidebar is the hub of activity in Flock. It keeps you informed with feed content and social streams so you don't have to leave the web page you are on. As soon as you sign into your social services and/or subscribe to RSS and ATOM feeds, the sidebar starts delivering what's new with your friends and favorite content.
Channel Surf the Web. The sidebar works like the channels on a TV. Use the "channel changer" drop down menu at the top of the sidebar to see just friends on Facebook, just friends on Twitter, all friends, just feeds, etc. But this is better than TV, because you can create any channel you want!
Share everything with Flock - Talk about the news, the funny video you just found, or anything else you stumble upon. Just click the Talk button, write a comment, and get back to what you were doing. We'll automatically add the link, and even shorten it for you.
Browser Extensions - We know there are lots of people who want to customize and personalize their online experience, and browser extensions can be a great way to do that. Google Chrome extensions work with Flock.
Who says you can't take it with you? Flock provides you the option of creating a free account that stores your favorite sites and feeds, your social networking accounts, and all the groups you make for your sidebar. You can access your account from any Flock browse.
Download
System Requirements:
WinXP, WinVista, Win2000, Mac OS X
Version:
3.0
Last updated:
2010-11-22 16:33:45
Publisher:
Flock
Homepage:
http://flock.com/
File name:
FlockSetup_1_2_213_0_3PD.exe
File size:
0.5MB
License:
Freeware
Price:
0