This Flash Downloader easily helps you to solve the annoying problem of missing favorite online Flash. It is a free Firefox extension, also can be treated as a flash download plug-in, which enables you to capture and save Flash SWF from web. More intuitive interface; faster downloading speed; multi-language interface; compatibility with the latest version Firefox; one-click operation without copying & pasting URL... All these guarantee you an amazing Flash download experience.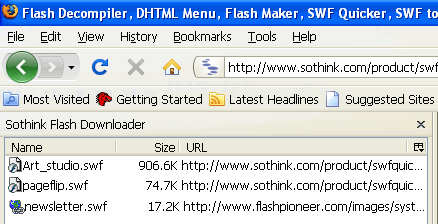 Special Tip: You can open the downloaded Flash in Sothink SWF Decompiler (www.sothink.com/product/flashdecompiler), and then extract SWF elements or decompile it to FLA or FLEX project for further editing.
Main Features:
* Easiest way of Flash capture, SWF download, animation download
* Embed into Firefox by adding a new button
* Auto detect and quick save Flash SWF
* Directly save online SWF as FLA file (when Sothink SWF Decompiler is installed)
* Save multiple Flash files at one time
* Multi-language interface: English, Japanese, Simplified Chinese, French, Italian, Traditional Chinese, Korean and German
* Support for Windows and Mac OS
Why Choose This Flash Downloader?
* A totally free and useful Firefox extension for Flash capture, SWF download
* Download Flash at anytime for offline viewing
* No need to worry about losing interested online Flash
* Life-time free upgrade
* Efficient customer service
Related Free Products:
Sothink SWF Catcher for IE (www.sothink.com/product/swfcatcher/ie)
Sothink SWF Catcher for Safari (www.sothink.com/product/swfcatcher/safari)