Files Search Assistant provides quick and efficient search within text documents.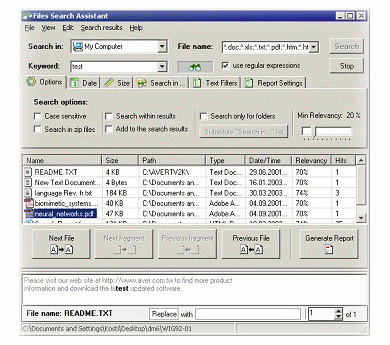 With Files Search Assistant you can search text in different file formats, for example in Adobe Acrobat (PDF) documents, MS Office files (xls, doc). Preview pane and other options make your search efficient and rapid.
Preview Pane - was design to save user form routine job. You can search for some text within different documents and Files Search Assistant can:
- Show you a small piece of found file with your keyword (marked as a bold text);
- Generate report with your search results, which you can print or save to file;
- Copy or move your search results to another folder;
- Help to navigate through your search result in a handy manner;
There are some features, which make Files Search Assistant especially useful for anyone who works with different documents (different formats and different context). Files Search Assistant provides you with:
- Custom Search options, where you can setup your preferable search settings, such as folders to search in and files to search for;
- Custom File Masks, where you can specify types of files, which you usually search for;
Some functions make Files Search Assistant an irreplaceable tool on your desktop. It allows:
- Search over network;
- To do sub search in zip files;
- Perform search within results;
- Search by data and by file size;
- To do multi-directories search;
- Search in different file formats (includes Acrobat Reader and MS Office documents);
- Generate search reports;
Why buy Files Search Assistant.
The only reason to buy this software is time saving. It means that you can work more efficiently, to be more creative and to convert your data into knowledge, which you can use to get profit.
Searching for lost and missing files with Files Search Assistant is now easy!
Download
System Requirements:
WinXP, Windows2000, Win98, WinME, WinNT 3.x, WinNT 4.x, Win95
Version:
3.1
Last updated:
2010-05-06 00:50:57
Publisher:
AKS-Labs
Homepage:
http://www.aks-labs.com
File name:
fsa_setup.exe
File size:
2.33MB
License:
Shareware
Price:
70.00