Perform intelligent file transfers in background! FTP Auto Sync automates routine data transfer operations by building automation scenarios, scheduling and performing file transfers over the FTP protocol. Blazing-fast secure FTP downloads, uploads, backup and synchronization tasks between local and remote PCs performed completely unattended.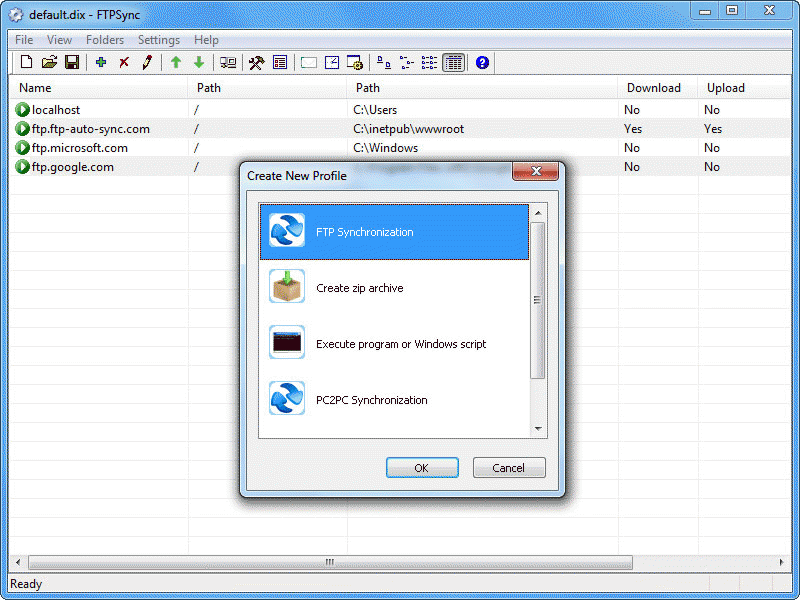 Installed in business environment, FTP Auto Sync is used by webmasters to keep their Web sites up to date, performs automated backups to safe remote locations, and creates and maintains server mirrors by synchronizing local and remote directories.
FTP Auto Sync is blazing fast. The unique synchronization algorithm is super-effective, allowing for near-instant synchronization of local and remote directories with huge numbers of files. FTP Auto Sync performs intelligent comparisons, only performing data transfers that are absolutely required to make the two directories perfectly identical. Built-in ZIP compression allows minimizing the amount of data being transferred for even faster synchronization.
Utilizing industry-standard Blowfish encryption allows FTP Auto Sync to transfer files securely even over non-secured connections.
Automating routine data transfer workflow with intelligent transfers is fast and easy. FTP Auto Sync comes with an intuitive GUI to build complex automation scenarios by simply pointing and clicking. The support for FTP scripting and external applications allows building even more complex automation scenarios.
Automated FTP transfers are performed on a schedule completely in background with the help of a built-in scheduler. FTP Auto Sync can run as a Windows service, allowing for background transfers in business and server environments with no user logged in.
Download
Alternative Download 1
System Requirements:
WinXP, WinVista, WinVista x64, Win7 x32, Win7 x64, Win2000, WinServer
Version:
2.1
Last updated:
2010-12-05 14:06:35
Publisher:
AQUATRA
Homepage:
http://www.aquatra.com
File name:
ftp-auto-sync.exe
File size:
3.08MB
License:
Shareware
Price:
99.95