Easy Time Tracking is a powerful, yet extremely easy-to-use time & expense tracking and customer billing application. It is an ideal solution for those individual contractors and companies who need to know readily how much time is spent on their tasks and how many hours they need to bill their clients for, as well as track expenses they incur. Your business needs Easy Time Tracking if it is essential that you track your employees' or contractors' time, as well as expenses being incurred, to make sure your projects are profitable enough. People who will benefit greatly from using Easy Time Tracking include: Software Developers, Web Designers, IT Contractors, Engineers, Accountants, Lawyers, Construction Workers, QA Specialists, Financial Advisors, Writers, Technical Support Specialists, and many others.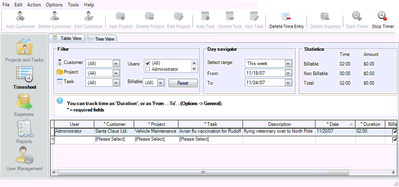 Download
System Requirements:
WinXP, WinVista, Windows Vista Ultimate, Windows Vista Starter, Windows Vista Home Basic, Windows Vista Home Premium, Windows Vista Enterprise
Version:
6.0.7
Last updated:
2011-12-16 08:37:42
Publisher:
Logic Software, Inc.
Homepage:
http://www.logicsoftware.net
File name:
ETTPro.exe
File size:
6.83MB
License:
Freeware
Price:
0.00