Desktop Security Rx software is a powerful desktop security solution for personal or publicly accessible computers running the Windows 2000/XP/Vista or Server 2003 Operating Systems.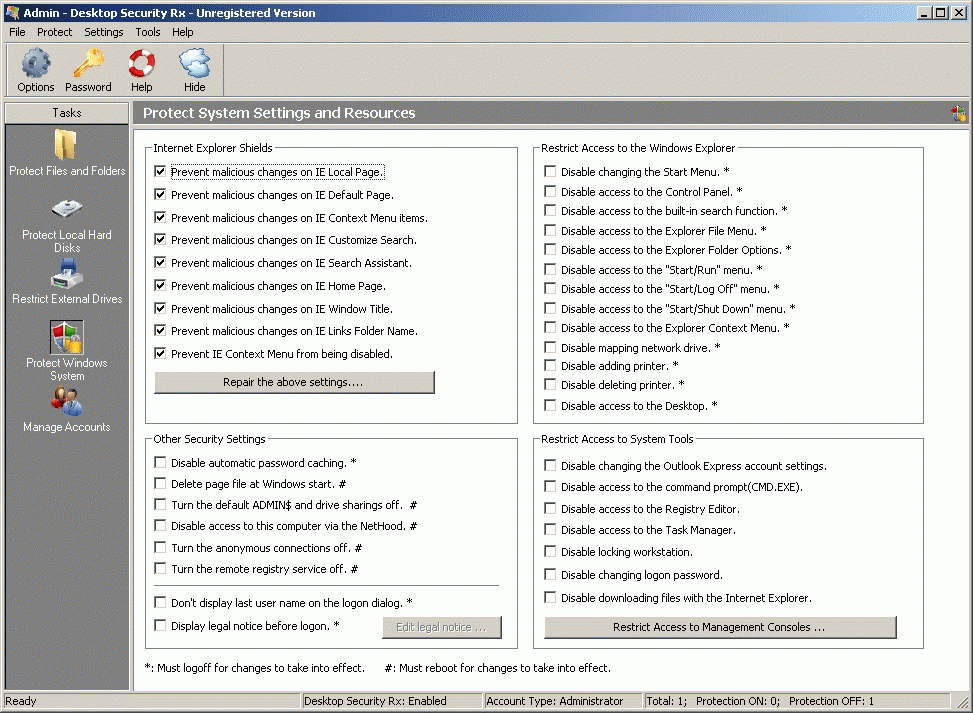 Desktop Security Rx software's advanced technology prevents users from deleting critical files and applications, making unauthorized changes to the desktop, saving unwanted programs, running disallowed programs, and downloading from Internet Explorer. With Desktop Security Rx software, you can feel confident that unauthorized changes to the system, whether accidental or malicious, won't become an issue.
- Locks applications and Control Panels
- Provides internet access security
- Disable CD-ROM, Floppy, USB and/or Hard Drive
- One-step installation
- Multi-account support
- Restrict changes to the desktop
- Prevent downloading via Internet Explorer
- Protect the operating system and computer settings
- Lock down control panel
- Block RUN, SEARCH and other Windows menu options
Robust Protection
The protection of Desktop Security Rx software functions at the OS kernel level. Therefore, the security initiates when the
Windows OS starts up. As a result of our robust architecture; Desktop Security Rx software functions even under Safe Mode or
even if the Desktop Security Rx software program has been terminated. Without the logon password, there is no known method to
bypass the robust desktop security of Desktop Security Rx software.
Protect Files & Folders
Desktop Security Rx software keeps files and folders secure and safe by hiding and locking them, or by making them read-only
with a password. When a file or folder is protected its' contents are invisible to all applications including Windows
programs like Explorer, Office, and even MS-DOS programs.
Easily Hide, Lock or Password-Protect any File or Folder...
With Its' simple to use drag-and-drop interface; Desktop Security Rx software is the easiest way to protect your important files/folders