Concept : Sensitive/Critical/Confidential files are always present on the disk. Even if they are deleted from the recycled bin, experts like us can retrieve them. Thus data can be recovered even if the disk has been formatted!!!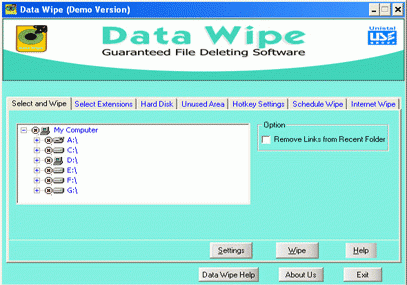 Scop of Work : To delete files permanently. The files deleted by using this utility cannot be recovered. Use Data Wipe only if you have already taken a backup or really do not need the files.
Features
• Data wipe with 35 passes makes it impossible to decode data back.
• Password protection to prevent unauthorized use of Data Wipe.
• Three strengths of wiping, Low, Medium and High.
• Six various options to wipe data.
• Select and Wipe
• Wipe select file types
• Wipe unused area.
• Wipe complete hard disk
• Wipe internet files.
• Wipe on schedule
• Emergency Wipe with hot key
• Simple and clear user interface.
• Supports Windows 95, 98, Me, NT, 2000 and XP.
• Supports any capacity hard drives.
• Wipe data from floppies also