Video to EXE Converter, Encrypt and convert video to exe with password protect, Smart-Anti screen recording, Support floating watermark, You can set playing time and expiry date, You can adjust playback rate. Support wmv, avi, flv, mpeg, rmvb, asf, mp4, etc. Use yourself encryption key to encrypt your video files to exe. The encrypted video files can only be opened via a Playback Password. The encrypted files can be used to achieve the following: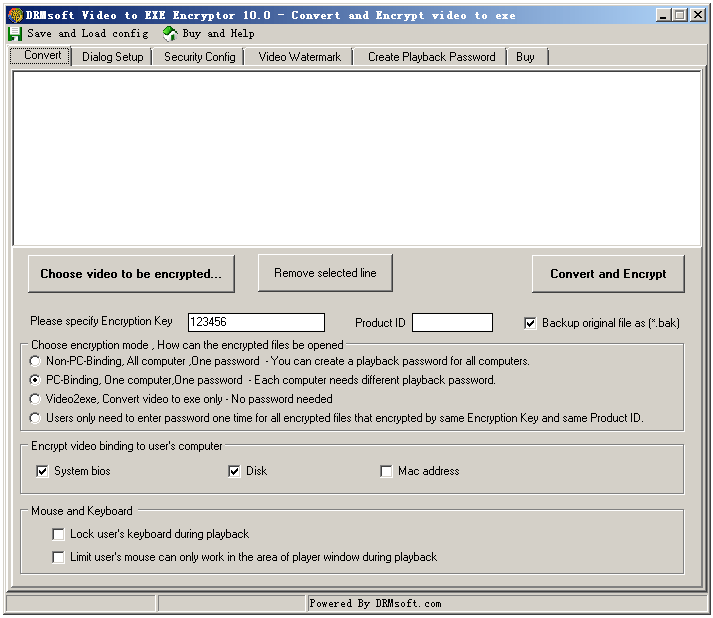 1, Multiple encryption modes:
Non-PC-Binding, All computer , One password;
PC-Binding, One computer, One password;
Video2exe, Convert video to exe only;
Only need to be authenticated once on the same computer(With same Key and Product ID).
2, You can specify the number of playbacks allowed, the time of playback and expiry date.
3, It can be configured to lock user's keyboard or mouse during playback.
4, It can be configured to prevent other windows from opening during playback;
5, Watermarks can be added to videos, support fixed or floating watermarks;
6, You can configure a user prompt so as to let users know how to contact you to obtain the Playback Password;
7, Popular screen recording can be prevented. You can also use smart-anti screen recording to prevent all other screen recording software.
8, Support many many video format, avi to exe, wmv to exe, rmvb to exe, mpg to exe, rm to exe, asf to exe, mp3 to exe, wma to exe, flv to exe, mpeg to exe, if you want to convert other video format, your users must install correct codec, you can tell your user how to download and install the codec.
9, Mouse double click on the screen to full screen
10, It can be configured to prevent opening in VMware and Virtual PC
11, You can adjust the playback rate during playback
12, Encrypted video or audio can be called from command line via a correct encryption key.
Download
System Requirements:
Win2000, Win7 x32, Win7 x64, WinServer, WinVista, WinVista x64, WinXP
Version:
10.4
Last updated:
2012-12-01 15:27:07
Publisher:
DRMsoft.com
Homepage:
http://www.drmsoft.com
File name:
Video-to-EXE-Encryptor.zip
File size:
0.83MB
License:
Shareware
Price:
45