Making games has never been easier than with Construct 2. To make a game you don't need to know how to program, you can jump straight in with our visual editor which is easy and powerful.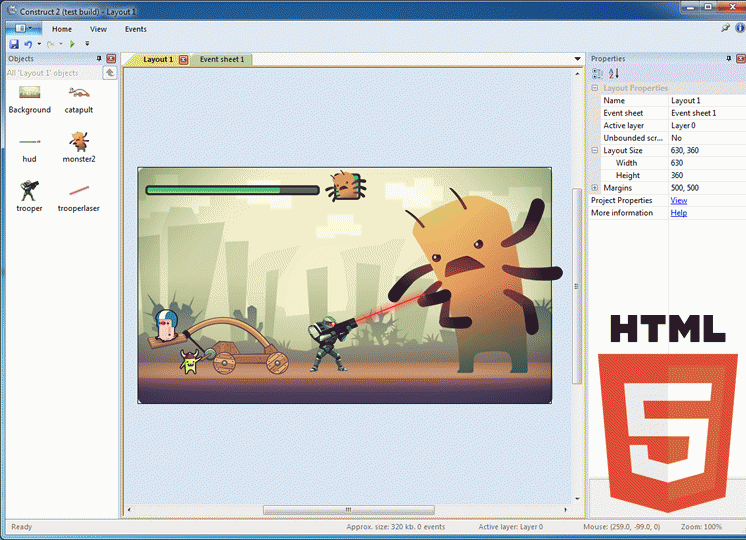 Construct 2 exports games to HTML5 which means all modern desktop browsers can play your games, as well as a wide variety of mobile devices (iPhones, Android etc). HTML5 really is the future of games online.
The game maker Construct 2 also comes with free background music, ambient sounds, sound effects (from sword swings, beeps whizzes and whirls to explosions and robotic sounds!) as well as sprite packs (with animations!) so you can make a game straight away!
Our event editor is a unique way of making games. Events are a simple way of making your game do what it wants, without need of any programming! Events are intuitive and visual. Construct 2 then converts your events into HTML5 and Javascript.
Construct 2 is the follow up program to Construct Classic, Scirra's Open Source game making program which to date has been downloaded almost 500, 000 times. Construct 2 is based on years of experience and lessons learnt from developing Construct Classic. Construct 2 is a very stable, powerful and extendable game development tool designed specifically with you in mind.
If you want to use Construct 2 for free, you can! We have a free edition available with no time limits. Make as many games as you want with our free edition. Our HTML5 demo on our website 'Space Blaster' was made entirely in the free edition. The 'Space Blaster' and 'Ghost Shooter' games on our demos page can be downloaded as project files so you can edit them and make your own version.
We are also here to help, we have an active thriving and very helpful community. You can also contact us by email at any point and we try our best to reply as soon as possible if you have any questions. If you're unsure how to get started, check out our tutorials section on our website for tips and examples.