Enjoy this entertaining screensaver of Chicago, the Windy City, complete with twenty full-screen [1024x768] photographs and several jazzy background tunes. Feast your eyes on the tall skyscrapers, the scurrying populace, and the majestic river. Another TravelScreensavers.com production.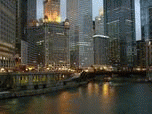 Configuration options include: stretch images to full screen, random image position, enable/disable specific transition effects, use your own tunes, choose which images to display in a preview pane, and more.
Version 2.0 offers new 1024x768 photos for larger monitor support, plus minor bug fixes.
Note that the trial version only displays eight pictures and plays two songs. When registered, the screensaver will display all twenty pictures and play all four songs.