"Bronze Themes Set for Butterfly" designed by Cat-ya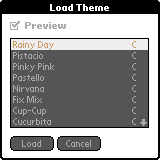 Install this set of 20 color themes to make your color handheld even more colorful!
RNS:: Butterfly (shareware) or RNS:: Butterfly Themes (freeware) are required to apply these color themes.
All these themes have been prepared for the 8 and 16 bit color depth, that is - for all color handhelds!
Take your time to have a look at the screenshot to preview all the 20 color themes included.
This package contains the following color themes:
Canatata, Carmello, Color Mix, Cucurbita, Cup-Cup, Fix Mix, Nirvana, Pastello, Pinky Pink, Pistacio, Rainy Day, Sky&grass, Strong Lilla, Templum, Tringle, Viola-Viola, Waterfall, Whisper, Yellow Pink, Ying-Yang.
Which one is your favourite?
Download
System Requirements:
Palm
Version:
1.0
Last updated:
2010-05-05 22:47:15
Publisher:
RNS::
Homepage:
http://www.ranosoft.net/
File name:
File size:
0KB
License:
Commercial
Price:
3.00