Today there do not exist any efficient way of making a phone call to a number not stored in the mobile phone. Bluetooth PC Dialer has been developed to solve this issue. With Bluetooth PC Dialer a phone call is never more then one click away independent of where the number is located. Bluetooth PC Dialer is both a stand-alone application and an Outlook plug in. With the Outlook plug in you can call the sender of an email by highlighting the email and press the Bluetooth PC Dialer call button. It is also possible to call directly from any contact. You can also initiate a call by coping the number to clipboard (CTRL-C) and press CTRL-SHIFT-D.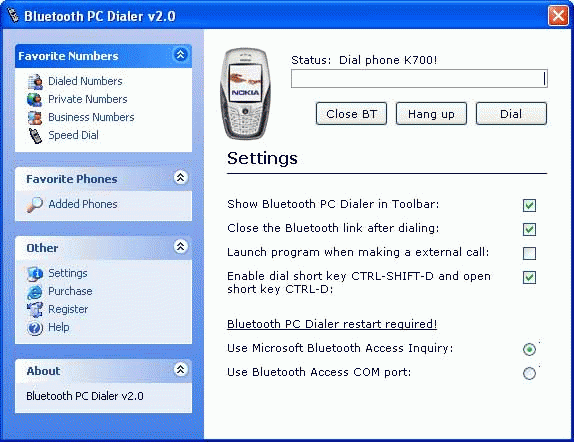 With Bluetooth PC Dialer you have the following call options:
- Copy a number to clipboard (Ctrl-C) and press the call short key combination (Ctrl-Shift-D)
- Call any number from the Bluetooth PC Dialer application
- In Outlook call from a highlighted email - Bluetooth PC Dialer will find the Contact that match the senders e-mail address
- In Outlook call from a highlighted Contact
- In Outlook call from an opened Contact
- In Outlook call any number that you chose
Bluetooth PC Dialer supports most Bluetooth enabled mobile phones and all Bluetooth PC solutions! It has native support for both the Bluetooth stack from Microsoft and Widcomm.
Download
System Requirements:
Win98, WinME, Windows2000, WinXP
Version:
2.0
Last updated:
2010-05-05 03:42:36
Publisher:
Bluetooth Shareware
Homepage:
http://www.blueshareware.com
File name:
bluetoothpcdialer.zip
File size:
2.39MB
License:
Shareware
Price:
9.95