Small in size and incredibly undemanding with resource consumption, BitComet Download Thruster is a fully proficient acceleration module making use of streaming technology to boost your download rate to an unprecedented level. The engine behind this lite file sharing application makes possible the employment of your own Internet connection to its fullest capacity and balances bandwidth consumption.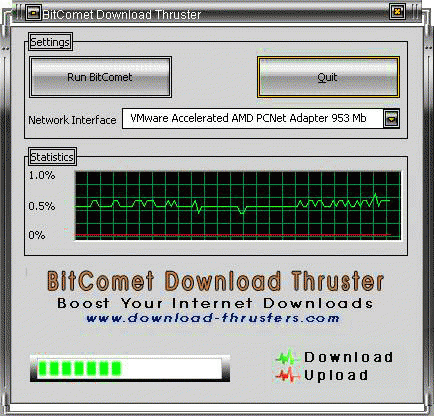 With BitComet Download Thruster you will no longer experience a sluggish download process every time most of the peers are not in your proximity. This is possible due to a system of proactive search within the network of the peers detected as closest to you.
The program's most appealing characteristic is its ease of use which allows any type of downloader to obtain better searching results and much faster downloads with his/her BitComet p2p client without doing any kind of setting or adjustment as the app does that all by itself.
BitComet Download Thruster offers an intuitive interface which promises instant resonation with the user and full integration with the native client.
Key features included in BitComet Download Thruster:
Speeds up downloads with great efficiency;
Provides smart interface operable by a system tray icon with zero effort;
Finished and invalid downloads are automatically removed from the queue;
Adds more sources in searching at user-specified intervals;
Resumes paused downloads automatically;
Configuration from last run is saved and auto loads on start-up;