Test your reflex with RNS:: Beer Collector! It's a game you cannot win.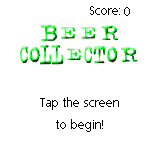 The objective of this game is to catch bottles of beer into your beer glass. The bottles move on four conveyor belts. As time progresses they gradually accelerate. For catching each bottle you earn points.
Be the best and gather the most points to get yourself on the highscore list!
In the full version of Beer Collector there's no points limit so you can play longer, and have much more fun!
All future updates of Beer Collector are free for registered users, so buy RNS:: Beer Collector today!